Santa Rosa, Napa, and King Hall Alums
Posted By Kevin R. Johnson, Jul 22, 2010
A busy but exhilarating day yesterday – the news that our alum Tani Cantil-Sakauye '84 would be nominated to be Chief Justice of the California Supreme Court broke as I was on my way to alumni events in Santa Rosa and Napa.
Lunch in Santa Rosa took place at Caffe Portofino.   Alumni in attendance included Barbara Gallagher '78, Dawn Ross '89, Joanne Harris-Bloom '89, and Tarik Naber '07.  It was great to catch-up and reminisce with the group.  In fact, Dawn reminded me that she had met me when she was a student member of the Appointments Committee, chaired by Dick Wydick, which brought me to the law school in 1989.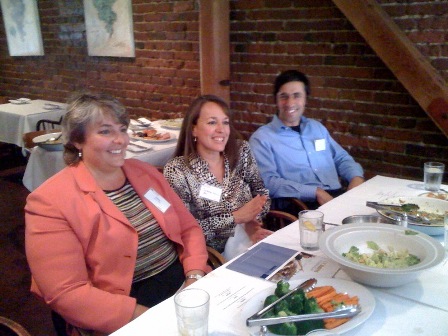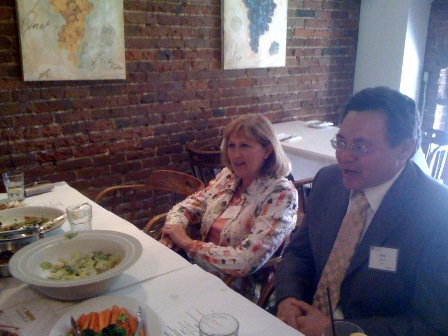 Lunch with our wonderful alums in Santa Rosa.
Our alumni reception in Napa was graciously hosted by Nick Van Male '70 at the Gaw Van Male law firm in downtown Napa.   Alumni in attendance included Yeoryios Apallas '72 (read his inspiring bio here), Chris Apallas '04, Gabrielle Janssens '09, Megan Bruce '09, Eric Lawrence '07, Susie Altman '03, and Liz Conemac '11, who's working as a summer associate in the Gaw Van Male law office.  A good number of Gaw Van Male attorneys were in attendance as well.
Everyone was quite excited about the nomination of Tani Cantil-Sakauye to be the next Chief Justice of the California Supreme Court.  Our alums were bursting with pride!   Meanwhile, in between events, I fielded countless phone calls from media outlets reporting on the nomination.  My interview with Capital Public Radio was conducted in the middle of the old town square in Sonoma… by iPhone!