Santa Barbara Whirlwind Visit
Posted By Kevin R. Johnson, May 5, 2011
I just had a wonderful whirlwind visit to Santa Barbara.  Judge Frank Ochoa, Class of 1975, had me talk about immigration reform to his Chicana/o Studies course on Law and Civil Rights at UC Santa Barbara.   After visiting UCSB, I had dinner with Judge Ochoa and his lovely wife, Paula Lopez, a news anchor for KEYT in Santa Barbara.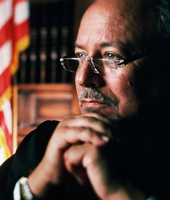 The next day, I stopped by Judge Ochoa's courtroom in the beautiful Santa Barbara courthouse to watch him preside over a trial.   At noon, I delivered a lecture on immigration at the Walter H. Capps Center for the Study of Ethics, Religion, and Public Life at UC Santa Barbara.  The audience included many UC Santa Barbara undergraduates who peppered me with thoughtful questions! 
Last but not least, I met with alums and friends of King Hall at a Latina/o Lawyers of Santa Barbara reception.  (Judge Ochoa is one of the founders of the Latina/o Lawyers of Santa Barbara.  He formed it less than 2 years ago.)  Among the alums there were Jennifer Adkins '08, Graham Lyons '99, Steven Jung '82, Victoria Kahn '09, Steven Andrade '77, Sheerin Karimian '09, Gail Osherenko '75, David Graff '04, Ben Bycel '74, Jasmeet Singh '10, and Mike Cage '89.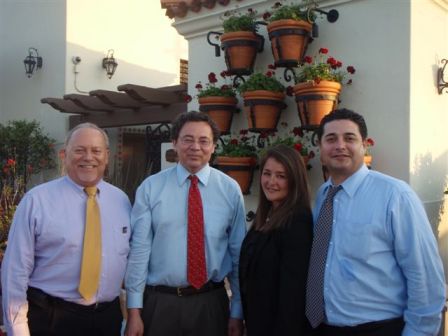 Judge Ochoa, me, Tracey Cruz and Juan Huerta at the reception
Thanks to Judge Frank Ochoa, a loyal King Hall alum, for helping to organize the wonderful event.  A mentor to many King Hall alums, as well as others, Judge Ochoa is a true community leader in Santa Barbara and will be honored as a Hero for Justice at the annual awards dinner of the Legal Aid Foundation of Santa Barbara County on May 14.