Sacramento Visit and OPD Dinner
Posted By Kevin R. Johnson, May 13, 2016
I visited Sacramento yesterday to visit with UC Davis School of Law alums and attend the annual dinner of Operation Protect and Defend (OPD), which works to educate high school students about the U.S. Constitution.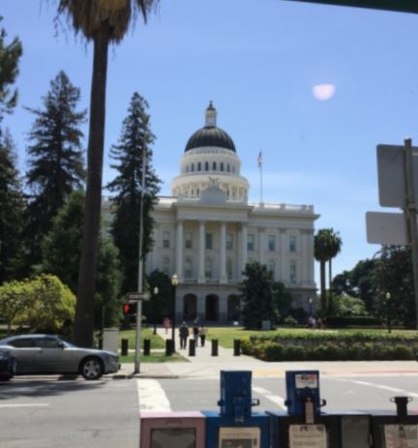 A shot of the State Capitol building in Sacramento
While catching up over coffee with Amparo Cid '10, Program Officer for the Sierra Health Foundation, Juanita Martinez '06, General Motors' Regional Manager in Public Policy for the Western Region, stopped by to say hello. It's always great to see successful alums! Amparo is helping to support social justice initiatives that would benefit communities of color in the northern Central Valley. She lives in Fresno and often sees City Councilwoman Esmeralda Soria '11 and Aida Macedo '11. Juanita is doing policy and legislative work for GM (and has a 22 month old baby!).
Last night's Operation Protect and Defend dinner was like a UC Davis School of Law reunion. I saw Legislative Counsel Diane Boyer Vine '86, Steve Boutin '72, Judge Judy Hersher '84, Kara Ueda '00, and many others. Andrea Fazel '06, a King Hall alum who now teaches U.S. Government in high school, introduced me to two of her students, one whom is headed to UC Santa Barbara and the other to UC Davis this fall. I was also able to catch up with dear friends of King Hall, including retired federal judge Frank Damrell, Justice Ron Robie, Justice William Murray, federal judge Troy Nunley, and others.  Keynote speaker Justice Goodwin Liu of the California Supreme Court, accompanied to the event by his parents (longtime residents of Sacramento), gave inspirational remarks on the importance of the constitutional rights of criminal defendants, which was the topic of the high school legal education project of Operation Protect and Defend this year.
It was a great day in California's capital city!