Sacramento Kings Honor UC Davis Clinic and Verizon
Posted By Kevin R. Johnson, Mar 1, 2010
As we've reported in the law school's web news and here on this blog, the Verizon Foundation has given yet another generous grant to the UC Davis School of Law Family Protection and Legal Assistance Clinic.  Now the Sacramento community is taking notice!
Here are some pictures from the Sacramento Kings basketball game on Friday night, where Verizon's Kevin Zavaglia presented the clinic with a giant check.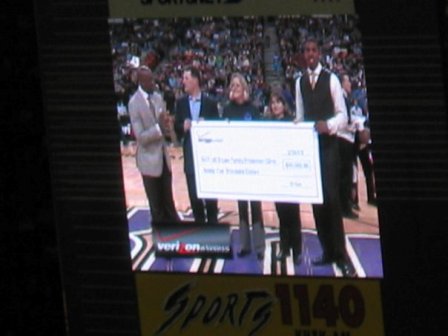 The check presentation was shown on the big scoreboard at Arco Arena.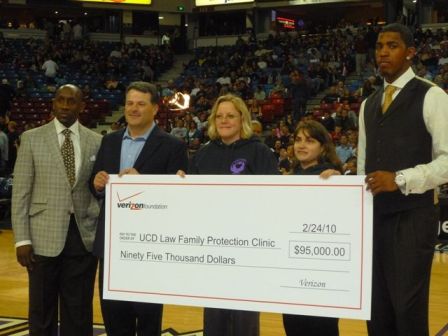 Former Kings Guard Bobby Jackson, Verizon regional president Kevin Zavaglia, Assistant Dean of Development and Alumni Relations Jean Flournoy Korinke, Family Protection Clinic staff attorney Krystal Callaway Jaime, and Kings forward Jason Thompson. This photo by Heidi Flato, Verizon Public Relations Manager.
Krystal Callaway Jaime, staff attorney at the clinic, wrote in an email:
"The Kings game was incredible!  The game was great and the Kings actually won.  When the presentation was made at half-time both Jason Thompson and Bobby Jackson were present.  Verizon was incredibly gracious.  After the half-time presentation the students came down to our box to take photos with the check.  Please make sure you convey not only the school's gratitude, but my personal thanks and that of the students on your blog."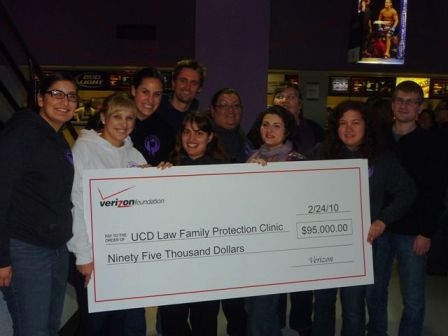 Krystal Callaway Jaime and students are grateful to Verizon.  Photo by Heidi Flato, Verizon Public Relations Manager.
Thanks to the Kings for having our faculty, staff, and students at the game.  And thanks again to the Verizon Foundation!  We are incredibly grateful to Verizon vice president for legal and external affairs and King Hall alumnus Steve Zipperstein '83 and Verizon vice president for strategic programs Elva Lima .  Thank you for your generous support!