Guest Blog Entry: Sacramento County Mock Trial Awards
Posted By Kevin R. Johnson, Mar 1, 2017
Here is a guest blog post from King Hall's Executive Director of Marketing and Public Relations Pamela Wu, who often moderates and emcees events in the region (something she started doing when she was a TV anchor!).
***
I served as emcee for the Sacramento County Mock Trial Awards Ceremony this week. Even though this is a high school event, King Hall was extremely well-represented!
The evening opened with remarks from County Superintendent of Schools Dave Gordon, whose daughter Jennifer Gordon Stoecklein is a 1996 King Hall grad.
Alum and Visiting Lecturer Judge Larry Brown '89 was the evening's keynote speaker.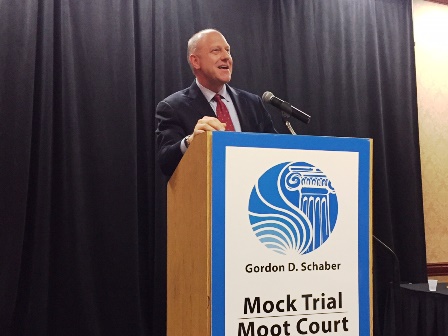 Judge Brown told the students that he, too, participated in Mock Trial in high school. He drew applause for his lively sense of humor (if you've ever met him, you know what I'm talking about) and his forceful assertion that he and his colleagues "aren't so-called judges – we're real judges. And we take our jobs seriously." He also drew the biggest laugh of the evening when I was about to announce the winner of one of the most prestigious awards of the night, and he interrupted by shouting, "LA LA LAND!"
It was a pleasure for me to announce the winners of this year's Mock Trial awards. The competition draws talented students from high schools across the Sacramento region. Winners were named in categories including best prosecutor, best defense attorney, best team, and team MVP, among others. Judges and scoring attorneys said they were extremely impressed by the students' performance. I have no doubt that there were many future attorneys among the competitors I met on that night.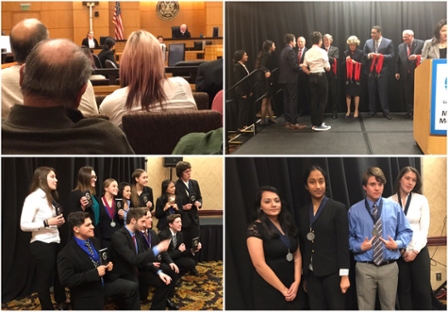 Photos courtesy of Twitter @SuptDaveGordon
Congratulations to the team from Elk Grove High School, this year's Sacramento County Mock Trial Championship team! Best of luck to you in the state finals.