Sacramento Bee Reports on Strong Employment Prospects for King Hall Grads
Posted By Kevin R. Johnson, Jun 4, 2014
The Sacramento Bee recently filed this story on employment prospects for law grads in the Northern California region, and it reveals that King Hall grads are faring well in the legal job market.
Reporter Phillip Reese writes, "At UC Davis, the situation is brighter, with an unemployment rate for recent graduates that is less than half the statewide rate," and "UC Davis has done better than many other law schools, too. It generally ranks among the nation's top 40 law programs in national publications -- and enrollment remains relatively small so it doesn't flood the market with graduates."
The story included this graphic: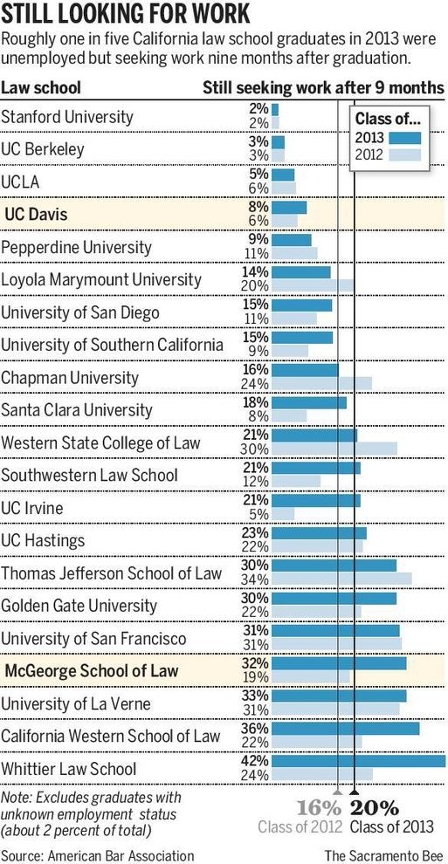 The newspaper's graphic includes full-time and part-time legally related jobs. You can see more employment statistics here.
Our law school works hard to assist students and recent graduates in their job searches. Recent years have seen the expansion of our contract hiring program and post-graduate fellows program. The Career Services office, led by former law firm hiring principal Craig Compton, offers career advising, workshops, resume and cover letter critiques, on-campus interview opportunities, mock interviews, and more. Learn more about King Hall's outstanding Career Services Office here.