Revealing the Yeoryios C. Apallas '72 Reading Room
Posted By Kevin R. Johnson, Jun 14, 2013
I welcomed alum Yeoryios Apallas '72 back to King Hall on May 13 for a special surprise.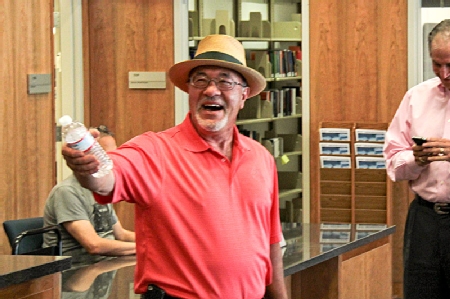 Surprise!
Assistant Dean for Development and Alumni Relations Jean Flournoy Korinke has more in this guest blog post:
Ron Malone, Trustee of the William and Inez Mabie Foundation, honored Yeoryios Apallas with the naming of the first-floor library reading room.It was Yeoryios who introduced the law school to the Mabie Foundation (which named the library) and the Kalmanovitz Foundation (which named our appellate courtroom).Their building gifts have totaled more than $3.2 million combined. This generosity was instrumental in making the building expansion and renovation happen.
King Hall staff worked with Ron to ensure the big reveal would be a surprise for Yeoryios.Under the guise of touring the renovated library, Ron invited Yeoryios to King Hall, without mentioning the room naming.Dean Johnson took Yeoryios and Ron to the library lobby at the start of the tour. As Yeoryios saw his name in bold, capital letters over the doors to the reading room, he became speechless and very emotional.It meant a great deal to him.A few weeks later, he would be the one to spring the surprise when he brought his family to King Hall. His surprised family members were excited and happy for Yeoryios to receive this honor.
***
Here is another photo from that day.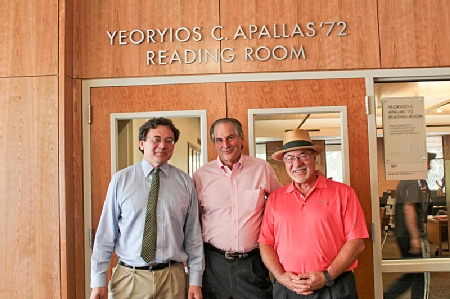 Me, Ron Malone, and Yeoryios beneath the reading room sign
Yeoryios and Ron -- Thanks for all you do for King Hall!!