Remembering Keith Aoki
Posted By Kevin R. Johnson, May 27, 2011
Friends, family, colleagues, staff, and co-authors filled the Kalmanovitz Appellate Courtroom yesterday to pay tribute to Professor Keith Aoki in a moving memorial. Many of Keith's friends shared stories and fond memories of his intelligence, many talents, and decency, as well as his deep and enduring love for his life partner Mona and two beautiful daughters Rachel and Sarah.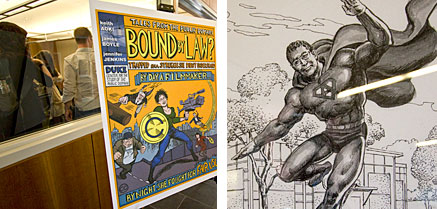 Left: A poster of one of Keith's comic books is displayed outside the window of the Kalmanovitz Appellate Courtroom, where guests are crowded.  Right: King Hall students commissioned this drawing of Professor Aoki as Superman.
Out of town visitors included Mary Louse Frampton from Boalt, Ibrahim Gassama from Oregon, Hari Osofsky from Minnesota, Chris Cameron from Southwestern, John Shuford, one of Keith's coauthors (from Gonzaga), Dean Frank Wu of Hastings and Carol Izumi of Hastings.  Alberto Roldan of the King Hall Alumni Board was there.  Wendy Ho, a UC Davis Asian American Studies professor, was there.  Many faculty, staff, and students were in attendance, too.
After the remembrances in the Courtroom, guests spilled into the courtyard to socialize and share their memories of Keith and listen to some of his favorite Dylan tunes.
Here's an excerpt from the remarks that I made at the event:
"A private, humble person, Keith was known to his colleagues, students, friends, and staff as a caring, gentle, and decent person.  He was deeply devoted to his students and had very much hoped beyond hope to teach his final Property classes; indeed, a friend found his notes for those classes on Keith's computer.  And Keith had a wheelchair ready to bring him to class.  He also was dedicated to the greater community.  This year, Keith gave me a hard time for not giving him enough committee work.  I don't hear that complaint often.  That was just Keith. 
The good news is that Keith's character, spirit, and exuberance for ideas and life itself will live on with his family, students, friends, and scholarship."