Liberal Lion of the Nation -- and Fierce Defender of the Rights of Immigrants -- Judge Stephen Reinhardt Dies at 87
Posted By Kevin R. Johnson, Apr 2, 2018
Judge Stephen Reinhardt, known as the "Liberal Lion" of the U.S. Court of Appeals for the Ninth Circuit, has died at the age of 87.  A brilliant jurist known for giving voice to the voiceless, Judge Reinhardt will be sorely missed on the federal bench.  A story about his career from his hometown paper, the Los Angeles Times, is here.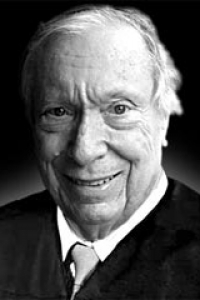 Judge Reinhardt was a long-time champion of immigrants.  He wrote some early asylum opinions, in cases that arose not long after Congress passed the Refugee Act of 1980.  And Judge Reinhardt left an indelibly mark on the law.  In Bolanos-Hernandez v. INS (1984), for example, he wrote what proved to be an influential opinion holding that neutrality in a violent civil war in El Salvador could constitute the "political opinion" necessary to establish eligibility for asylum as "persecution on account of political opinion"; in his words, 
"Choosing to remain neutral is no less a political decision than is choosing to affiliate with a particular political faction. Just as a nation's decision to remain neutral is a political one, see, e.g., Neutrality Act of 1939, 22 U.S.C. §§ 441-465 (1982), so is an individual's. When a person is aware of contending political forces and affirmatively chooses not to join any faction, that choice is a political one. A rule that one must identify with one of two dominant warring political factions in order to possess a political opinion, when many persons may, in fact, be opposed to the views and policies of both, would frustrate one of the basic objectives of the Refugee Act of 1980 —to provide protection to all victims of persecution regardless of ideology. Moreover, construing "political opinion" in so short-sighted and grudging a manner could result in limiting the benefits under the ameliorative provisions of our immigration laws to those who join one political extreme or another; moderates who choose to sit out a battle would not qualify."
Some critics may emphasize that the Supreme Court reversed a number of Judge Reinhardt opinions, a fact for which he was unapologetic.  ("If they want to take away rights, that's their privilege. But I'm not going to help them do it.").  But in Cardoza-Fonseca v. U.S. Immigration and Naturalization Service (1985), his opinion established the law that remains in place to this day with respect to relief for noncitizens who have fled persecution.   The INS had conflated the standards for relief for asylum and withholding of deportation, two distinct statutory forms of relief.  Correcting the error, Judge Reinhardt clarified the standards in a rational fashion.  The Supreme Court in INS v. Cardoza-Fonseca affirmed Judge Reinhardt's opinion, with even Justice Antonin Scalia concurring in the judgment.  ImmigrationProf blogger Bill Hing was one of the attorneys in that case.
More recently, Judge Reinhardt in a 2017 opinion (and here ) took on the Trump administration's immigration agenda:
"President Trump has claimed that his immigration policies would target the "bad hombres." The government's decision to remove Magana Ortiz shows that even the "good hombres" are not safe. Magana Ortiz is by all accounts a pillar of his community and a devoted father and husband. It is difficult to see how the government's decision to expel him is consistent with the President's promise of an immigration system with "a lot of heart." I find no such compassion in the government's choice to deport Magana Ortiz.
*****
We are unable to prevent Magana Ortiz's removal, yet it is contrary to the values of this nation and its legal system. Indeed, the government's decision to remove Magana Ortiz diminishes not only our country but our courts, which are supposedly dedicated to the pursuit of justice. Magana Ortiz and his family are in truth not the only victims. Among the others are judges who, forced to participate in such inhumane acts, suffer a loss of dignity and humanity as well. I concur as a judge, but as a citizen I do not."
I had the privilege of clerking for Judge Reinhardt in 1983-84.  (I credit former Massachusetts Governor  Deval Patrick, a Reinhardt clerk in 1982-83 and law school colleague of mine, with helping me land the clerkship.).  Today, I still feel honored to have had the experience -- although it admittedly was an exhausting year indeed. 
Among the many debts that I owe "SR" is my interest in immigration law.  During law school, I did not have the opportunity to take a course in immigration law -- it was not on the curriculum -- and clinics were basically nonexistent.  There also were not many immigration cases on the Ninth Circuit docket at that time. Nonetheless, I had the occasion to talk to Judge Reinhardt about immigration on one of our regular walks around the downtown LA area.  (Judge Reinhardt at the time took regular walks as his form of exercise.).  It was clear to me that he took the immigration and asylum cases seriously and he told me why in words that I paraphrase from memory:  "the U.S. government turned its back on Jews who fled Nazi Germany and we all knew what happened.  We cannot let it happen again."  Judge Reinhardt got me thinking.  I like to think that I took his lessons to heart.
Throughout my career, I often have thought of what I learned from Judge Reinhardt.  A few weeks ago, I could hear him lecturing me as I was working on an amici brief with others in the Ninth Circuit appeal of a case challenging President Trump's rescission of the Deferred Action for Childhood Arrivals policy.  Even as I wrote this post, I thought of Judge Reinhardt's rigorous -- and unequalled in my experience -- devotion to the craft of writing.  Memories of going over opinions with him line-by-line as I sat there, many times late in the evening, will forever be a part of who I am professionally. 
U.S. Court of Appeals for the First Circuit Judge David Barron, a Reinhardt clerk in 1994-95, in the following e-mail to the Judges former clerks, expressed my feelings well:
"This is a terrible email to have to write, and many of you may have heard the news, but Judge Reinhardt died this evening.  His family wanted to be sure that his law clerks — who gave him such pride — knew right away.  He was an incredible force on the courts, and, in consequence, in the country.  He made the lives of so many people better, and the world more just.  But, for us, his clerks, he was also an incredible force in our own lives.  It somehow seems to me not real, but if I have known anyone who was willing to confront the truth no matter how hard it was to do so, it was the Judge. I will miss him greatly, as I know you will as well.  With gratitude for having been fortunate enough to have known him, to have been inspired by him, to have learned so much from him, and to have been invited into the network of clerks who loved him."