Reception for U.S. District Judge Troy Nunley
Posted By Kevin R. Johnson, Aug 30, 2013
Yesterday evening in the King Hall courtyard, the Law School held a reception for Judge Troy Nunley.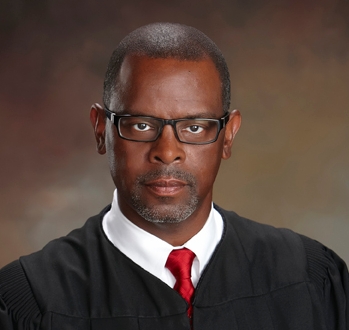 Judge Nunley has been a good friend to the King Hall community, supporting our students and participating in events such as the upcoming Swearing-In Ceremony for recent graduates who pass the Bar Exam. Clay Tanaka, our Director of Legal Writing and a friend of Judge Nunley's, wrote this quick summary about yesterday's event:
King Hall hosted a reception for recently confirmed United States Eastern District Court Judge Troy L. Nunley on August 29, 2013. Despite the seasonable weather, the reception was well-attended by members of the local state and federal judiciary, members of the Bar, King Hall alumni, King Hall faculty, and many interested King Hall students. Judge Nunley was pleased for the recognition by King Hall and mentioned he looks forward to considering King Hall students for clerkships. In the summer of 2013, Judge Nunley offered summer externships to three King Hall 1L's. This fall semester, Rebecca Freed, a King Hall 3L, is serving as an extern with Judge Nunley.
Judge Nunley has a remarkable personal story, which the San Francisco Chronicle described as "rags to robes." You can read the article here: http://www.sfgate.com/bayarea/article/Federal-judge-nominee-Troy-Nunley-works-his-way-up-3692208.php.
Many thanks to Judge Nunley for his support of UC Davis School of Law and its students! We will see you back at King Hall for the Swearing-In Ceremony in December!