'Race and Intellectual Property' at Boston College
Posted By Madhavi Sunder, Apr 24, 2017
Last week I spoke on the opening plenary panel for a large interdisciplinary conference on "Race and Intellectual Property" held April 20-22 at Boston College.  The conference brought together dozens of scholars from law, media studies, and communications, with King Hall faculty and students playing an important role.
I presented a new paper, co-authored with Professor Anupam Chander, about the Regional Comprehensive Economic Partnership ("RCEP"), a trade agreement being negotiated by 16 countries that make up the bulk of Asia, including China, India, Japan, and South Korea, to Australia and New Zealand. With the sudden demise of the Trans Pacific Partnership Agreement (TPP), all eyes are now on the RCEP. In my remarks, I remembered late King Hall Professor Keith Aoki, whose pioneering work in race and intellectual property I read in law school in the 1990s. His work put me on the path to become an IP scholar.
King Hall was well represented at the conference, with Professor Lisa Ikemoto speaking on the plenary panel on Day 2. Professor Ikemoto spoke about the controversy over the HeLa cell line, which originating from the cells of an African American woman, Henrietta Lacks, who died of cervical cancer in 1951. Her cells became the source of one of the most important cell lines in medical research. This weekend a new documentary about Henrietta Lacks premiered starring Oprah Winfrey.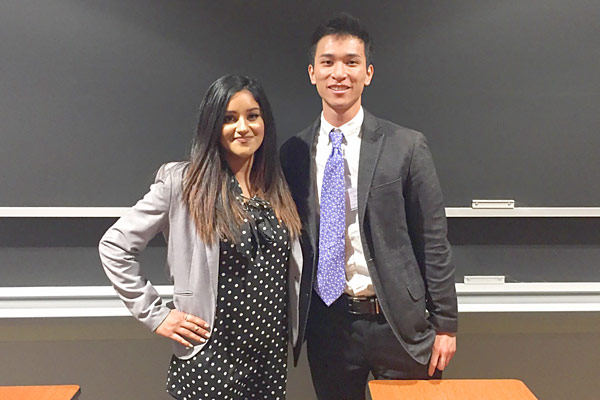 King Hall students Benjamin Chen '18  and Jasjot Maan '18 were selected through a competitive process to present their original research at the conference. Benjamin presented a paper on Chinese "shanzai," a grassroots movement in which local corporations playfully imitate global brands such as Nike and Adidas, while giving the goods local meaning and a more accessible price point. Jasjot wrote about intellectual property disputes over yoga.
The conference, organized by Boston College Professor Anjali Vats, whom King Hall was fortunate to host as a Visiting Professor of Law last semester, was a big success. It brought together for the first time senior and junior scholars in the field of race and intellectual property. I was honored to be a part of this important set of conversations, and enjoyed both reconnecting with longtime colleagues and meeting many newcomers to the field. I was especially proud to see King Hall faculty and students play such an important role in this event.