Public Service Graduation and Farewell BBQ for the Class of 2017
Posted By Kevin R. Johnson, May 3, 2017
One of the most inspirational events of the UC Davis School of Law academic year is the Public Service Graduation, which took place last Friday.  The Class of 2017 had more than 90 students -- more than half the class -- receive Public Interest certificates and recognition for participation in the Pro Bono program. Professor Irene Joe (pictured below) was the faculty speaker and offered inspirational thoughts about the need for social justice attorneys to practice "self care."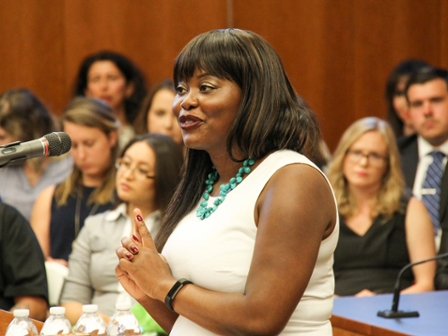 It was wonderful seeing the future of public interest law be honored.  The students selected Stephanie Medina '17 to receive the Dr. Martin Luther King, Jr. Community Service Award.  Stephanie, who earned her undergraduate degree from Brown University, did volunteer work on behalf of immigrant workers as well as immigrants in the Immigration Law Clinic.

Members of the MLK, Jr. Service Award Committee surround award winner Stephanie Medina '17.

The ceremony was followed by the Class of 2017 Farewell BBQ.  King Hall celebrated the graduation of this class with some tasty tri-tip, lasagna, and cookies. Incoming Alumni Board President Kim Lucia '09 presented the Alumni Board award to Alexandra Guerra '17, who will graduate in a few short weeks.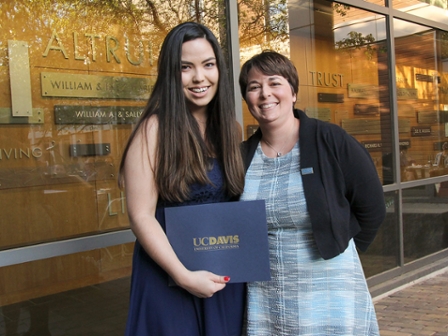 Alex Guerra '17 and Kim Lucia '09
Alex, a Cal Berkeley alum, was active in many groups at King Hall, including serving as co-chair of the Asian Pacific American Law Students Association (APALSA).  I have known Alex and her husband (also her classmate and fellow 3L) Joel Guerra, since they were new first year students.  They both exemplify all that King Hall stands for.
See more pictures from both events in our Facebook photo album. The back-to-back events were a fitting end to the law school year -- a night of warmth, celebration, and good cheer.