Public Law Center Annual Dinner
Posted By Kevin R. Johnson, Jun 19, 2012
The Public Law Center annual Volunteers for Justice dinner at the Hyatt Regency in Orange County is becoming an annual UC Davis event of sorts.  Last year, as I blogged in a previous post, I attended the gala and caught up with our alumna and Chief Justice Tani Cantil-Sakauye '84 as well as my law school roommate Mike Ermer, a senior partner at Irell & Manella's Newport Beach office.
This year, I again attended the dinner for the group, which is headed by King Hall alum Ken Babcock '81.  The Public Law Center provides much-needed legal assistance to the needy in Orange County. 
Ken gave a warm welcome to the 900+ attendees and generously introduced me.  King Hall alum and Alumni Board member Mike Williams '97 next took the podium and expressed his nervousness over speaking in front of his former civil procedure professor (me) and introducing the keynote speaker, Justice Goodwin Liu of the California Supreme Court, who was also the UC Davis 2012 Commencement speaker.  Mike offered a grand introduction and mentioned that Justice Liu graduated law school from the "UC Davis of the East" -- Yale.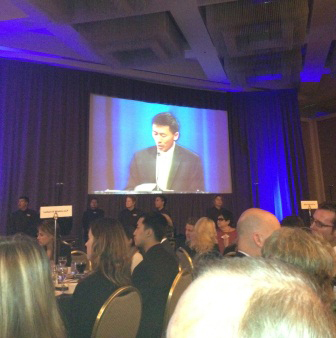 Justice Liu on the big screen
I sat at the Irell & Manella table with, among others, Mike Ermer and alumna Professor Francine Lipman '93, who is moving from Chapman law school to the University of Nevada at Las Vegas this fall.  Among other alums who I caught up with were Christian and Jill Abasto '97, Monica Ashiku '08 (who does immigration work for the Public Law Center), and Dina Randazzo '08.