Prospective Students and Football Saturday
Posted By Kevin R. Johnson, Nov 21, 2013
UC Davis School of Law had a community-oriented Saturday, with faculty, students, alums, and prospective students spending a beautiful fall day in Davis. It started off with an Open House for Prospective Law Students. More than 100 potential King Hall students met for breakfast and coffee with many professors, including Cruz Reynoso, Tom Joo, Katherine Florey, Rex Perschbacher, Lesley McAllister, Lisa Ikemoto, Jack Chin, Evelyn Lewis, and Clay Tanaka, as well as many current King Hall students. The prospective students heard a number of interesting panel discussions about the King Hall experience, including a presentation by Professors Margaret Johns, Ashutosh Bhagwat, and David Horton about the unique culture of King Hall with its tight-knit community of students, faculty, staff, and alumni.
After lunch with the prospective students, I made a stop at the Law School's Alumni Board meeting. Gage Dungy '03, the current President of the Board, held a crisp meeting, which to me always feels like a mini-reunion of alums. I was able to update the board on news around King Hall, including the admissions outreach, the completion of the renovation, and Karen Charney's new role as Director of Development.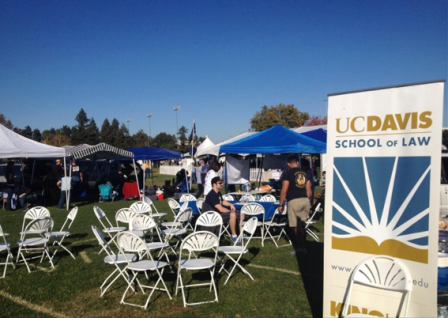 Tailgate preparations at Aggie Stadium
Next, students, faculty, and alums convened at a tailgate, with great BBQ, at the North Dakota v. UC Davis football game. Bill Mantle '74 was among the alums who attended the tailgate and met with students and faculty. Athletic Director Terry Tumey stopped by to say hello and mentioned to a few law students the internship opportunities in the Athletic Department working on NCAA compliance. The UC Davis football team had a great game and trounced the visitors from North Dakota by a 34-18 margin. We had a block of tickets to root for the Aggies and cheered when the game announcer recognized the School of Law. I sat with, among others, Professor Rex Perschbacher, and alums Gary Solis '71 (a visiting professor at King Hall this semester), Kara Ueda '00, Scott Lay '00, and Bill Mantle '74.
It was a great King Hall day!