Professor Imwinkelried's Objections at Trial
Posted By Kevin R. Johnson, Feb 5, 2010
Here at King Hall, we like to say that Professor Edward J. Imwinkelried wrote the book on scientific evidence, literally and figuratively.  His treatise Scientific Evidence has been cited by the U.S. Supreme Court, and the American Bar Association Journal calls it "the standard against which all future treatises on the subject will be measured."
Now, another book by Professor Imwinkelried, Objections at Trial, is poised to gain many new fans.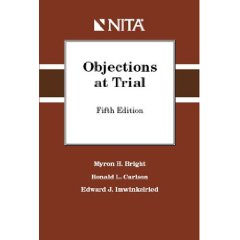 One of his co-authors, the Honorable Myron H. Bright, Senior Judge on the U.S. Court of Appeals for the Eighth Circuit, recently wrote in a letter to all federal judges: "[Objections at Trial] has gone through five editions, the last three with the eminent evidence professor Edward J. Imwinkelried, professor of law and director of trial advocacy at the University of California, Davis School of Law as a co-author.  This work has found great favor with lawyers and judges everywhere.  The book is easy to use and quickly gives the reader a guide to proper objections to evidence under the Federal Rules of Evidence, which rules have been adopted in most part in 41 of the states.  I think this book will be of help to any judge who presides over trials or pretrials and needs to rule on evidence matters."
I have no doubt that federal trial judges will find Objections at Trial nothing short of excellent, as Professor Imwinkelried's scholarship always is!