Professor Bennoune Receives IANGEL Award
Posted By Kevin R. Johnson, Apr 15, 2016
Congratulations to Professor Karima Bennoune, who was honored in San Francisco earlier this week by the International Action Network for Gender Equity & Law (IANGEL). She was presented with the Rights and Leadership Award for 2016.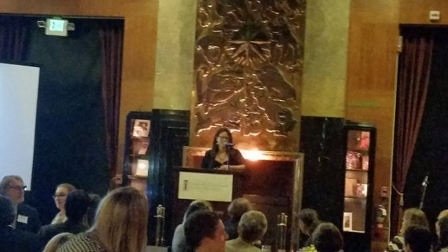 Photo courtesy Twitter user @AniZonneveld
IANGEL helps to connect pro bono legal assistance with organizations, communities, and activists working for gender equality locally, nationally, and around the world. IANGEL's founder and president is King Hall alum Nancy J. Newman '83.
Professors Lisa Pruitt and Lisa Ikemoto, along with a few of Professor Bennoune's students, attended the award ceremony.
Congratulations, Professor Bennoune!