Postcard from Florence, Arizona
Posted By Kevin R. Johnson, Apr 14, 2011
UC Davis Law alum Katherine Dick writes about immigrant detention in Florence, Arizona. The title of the article is "Hundreds of Asylum Seekers Detained Without Counsel."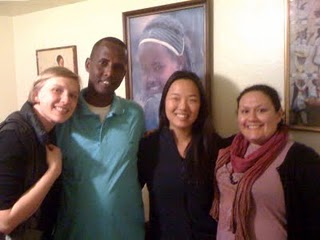 That's Katherine in the center, wearing black.
Kate, who as a law student worked in the UC Davis Immigration Law Clinic, is a fellow with the Florence Immigrant and Refugee Rights Project (with two other UC Davis Law alums, Tally Kingsnorth and Kate Ruhl).  For a blog on immigrant detention in Arizona, click here.
Cross-posted from http://lawprofessors.typepad.com/immigration/