The Collective Memory of Genocide
Posted By Kevin R. Johnson, Nov 13, 2018
(Guest post by Afra Afsharipour, Senior Associate Dean for Academic Affairs)
On Monday, Nov. 5, we were honored to host the moderated discussion "The Collective Memory of Genocide." The purpose of the event was to discuss genocide denial and international arrest warrants in the aftermath of the genocide in Rwanda. In 1994, in just 100 days, extremists from the ethnic Hutu group killed approximately 800,000 Rwandans, mostly from the Tutsi minority ethnic group. We were honored to have the opportunity to get more perspective about this global tragedy from the chief law officer of the Republic of Rwanda. His Excellency Johnston Busingye is the Minister of Justice and Attorney General of Rwanda. Minister Busingye has held many positions in the Rwandan government and Rwandan judiciary. From 2006 until 2013, he served as the President of the High Court of Rwanda. He has also served as the National Prosecutor of Rwanda, as Permanent Secretary in the Ministry of Justice, and as Principal Judge of the East African Court of Justice. The discussion with Minister Busingye was moderated by a distinguished expert, Mr. Grant Harris. Mr. Harris CEO of Harris Africa Partners LLC, and former principal advisor to President Barack Obama on issues related to Africa, having served as Special Assistant to the President and Senior Director for African Affairs at the White House from August 2011 to August 2015.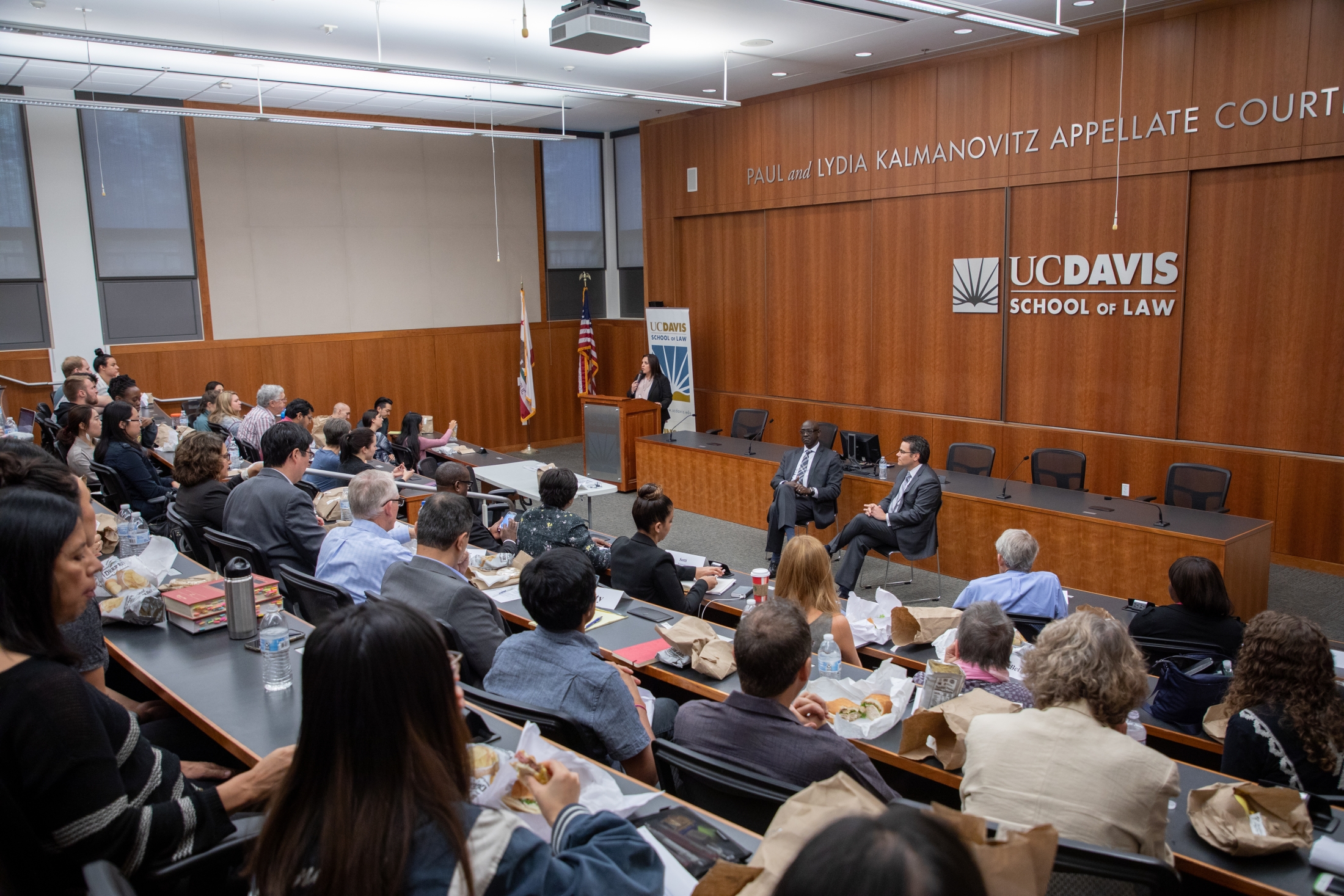 Minister Busingye reflected on Rwanda's efforts to rebuild its society and government after this enormous tragedy. The horrors that Rwanda faced were unimaginable, and Minister Busingye spoke eloquently about how to rebuild a "failed state." Minister Busingye addressed the lessons that can be drawn for the international community from Rwanda's history of genocide and the failure of the international community to stop this horrific chapter in Rwanda's history.  He also spoke about the important work on post genocide reconciliation and healing in Rwanda, as well as the contributions of the International Criminal Tribunal for Rwanda.
The event was extremely well-attended with almost 200 audience members in our largest classroom, as well as two other classrooms. We were honored to have in the audience Professor Mathilde Mukantabana who served as the Ambassador Extraordinary and Plenipotentiary of the Republic of Rwanda to the United States of America and non-resident Ambassador to Mexico, Brazil, and Argentina.  I would like to thank our amazing marketing and event planning team for coordinating this important event, as well as our co-sponsors for the event: UC Davis Global Affairs, the UC Davis Law International Programs and the California International Law Center.