Philip Person '11 Meets Attorney General Holder
Posted By Kevin R. Johnson, Jan 14, 2013
I recently received a link to this photo proof from Philip Person '11 -- with United States Attorney General Eric Holder!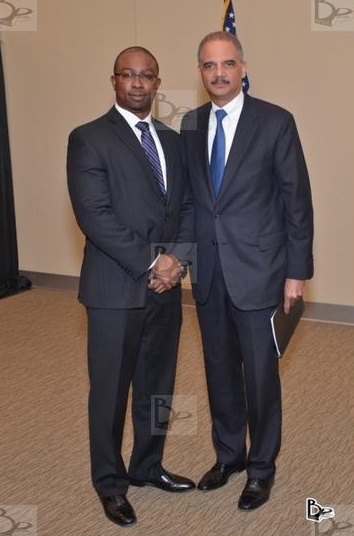 Proof by Besses Photography
Philip wrote in an e-mail, "This photo is from the swearing-in of Danny Williams, United States District Attorney for the Northern District of Oklahoma.  The judge who I am currently clerking for -- Chief Judge Vicki Miles-LaGrange for the United States District Court, Western District of Oklahoma -- brought me along with her.  She introduced me to Attorney General Eric Holder while the district court judges were back stage."
Here's a news article about the event in Tulsa. And the photographer's event picture gallery (you can spot Philip in a couple more photos, too).
Thanks for sharing the great photo, Philip!