Partnership with the Department of Fair Employment and Housing
Posted By Kevin R. Johnson, Aug 25, 2011
The Law School recently received this nice e-mail and photo from Phyllis W. Cheng, Director at the Department of Fair Employment and Housing.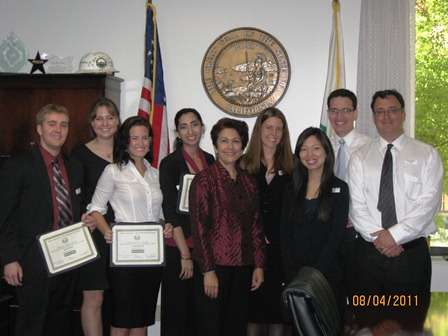 The DFEH-UC Davis School of Law Employment Discrimination Law Program has concluded, save for a few students who will continue on.  The program was a huge success!  The eight law students, and their counterparts at the DFEH-UC Irvine School of Law Civil Rights Clinic, completed classifying over 900 CFRA class claims in DFEH v. Verizon Services Corp under DFEH Chief of Enforcement Tim Muscat's supervision.  In addition, some of the students were also cast in a future DFEH training video, "DFEH Intake to Decision," which we will gladly share with the law school when completed.
Many of the students now aspire to become future civil rights attorneys.  A new DFEH Partnerships Facebook page on the students' good work can be seen here.  I have attached a photo of the UCD students with State & Consumer Services Secretary Anna Caballero and DFEH Chief of Enforcement Tim Muscat.
We look forward to an exciting fall 2011 clinical program with UC Davis School of Law.  Please encourage law students to enroll in the fall and spring programs. Many thanks for being a great partner to the DFEH!
***

Thanks, Phyllis!  It's our pleasure to partner with DFEH!