Outreach and Events
Posted By Kevin R. Johnson, Dec 3, 2010
I attend a fair number of receptions, ceremonies, and other gatherings on behalf of King Hall.  It is gratifying to represent our great law school at such events and find that our faculty, students, and alumni have a stellar reputation in the community.  This morning, I headed to the State Capitol, where Governor Schwarzenegger swore-in Tani Cantil-Sakauye as Chief Justice of California!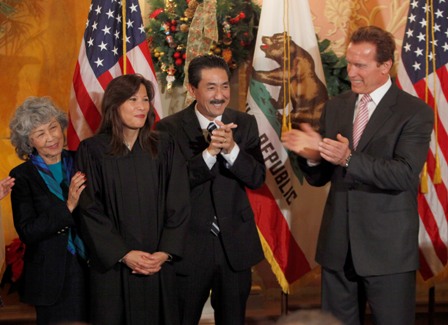 Photo courtesy of AP
The Governor, Justice Cantil-Sakauye, and retiring Chief Justice Ronald George addressed the audience in the Rotunda.  I sat with Alumni Board member Alberto Roldan and another alum, Susan Nelsen (his wife).  In fact, we had many alums in attendance, including Justice Louis Mauro and Judge Larry Brown.
Yesterday in San Francisco, I attended the first meeting of the State Bar's California Law Academy Strategic Task Force, of which I am a member.  Justice Carlos Moreno, co-chair of the Task Force, addressed the group as did Chief Justice-designate Cantil-Sakauye.   
Earlier this week, on Wednesday, I attended a book presentation sponsored by the UC Davis Institute of Governmental Affairs and met (and had lunch) with the author, Margaret Regan.  Regan has written a compelling book about the deaths along the U.S./Mexico border.  See http://lawprofessors.typepad.com/immigration/2010/04/from-the-bookshelves-the-death-of-josseline-immigration-stories-from-the-arizonamexico-borderlands-b.html
After that lunch, I went to a reception at the Genome Center at the School of Medicine honoring UFW co-founder and social activist Dolores Huerta.  Huerta, who celebrated her 80th birthday last August in LA's Greek Theater with Carlos Santana headlining (http://www.nochelatina.com/Articles/7172/Carlos-Santana-to-Perform-at-Dolores-Huertas-Birthday-Bash-in-Los-Angeles), had talked to a Med School class on farm worker health.  At the reception were, among others, Carlos Gutierrez Gonzales, Mexican Consul General in Sacramento; Bill Lacy, Vice Provost for University Outreach and International Programs; Professor Marc Schenker, Professor Luis Guarnizo, and others.