Our Partnership with Legal Services of Northern California
Posted By Kevin R. Johnson, Aug 5, 2015
I am proud of the close ties UC Davis School of Law shares with Legal Services of Northern California.

Executive Director Gary Smith and Deputy Director for Program Operations Julie Rogado teach public interest classes for us at King Hall. Recent graduate Megha Bhatt '15 is the recipient of a Mabie-Apallas Fellowship that will fund a full-time, one-year staff attorney position with LSNC. Many, many of our graduates work for LSNC. And I am President of the LSNC Board of Directors.
Gary Smith just shared this video via e-mail. He writes, "I think it is quite compelling, and I hope that after you watch it you will share it with your family, friends, and any other persons or organizations with whom you may be in contact."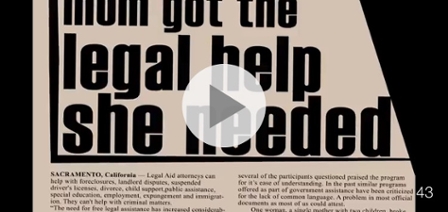 Thanks to Gary for sharing this great video highlighting the important work of Legal Services of Northern California. King Hall is proud of its strong partnership with LSNC!