Olympic Marathoner Competes Thanks to King Hall Alum
Posted By Kevin R. Johnson, Aug 10, 2012
Have you seen the incredible story about the "stateless" South Sudanese marathoner?  Did you know there is an amazing King Hall connection?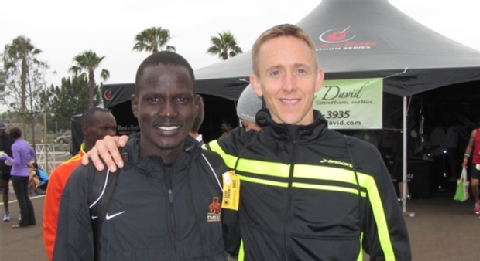 Guor Marial and Brad Poore '08
Today it was announced that runner Guor Marial will be competing under the Olympic flag.  His friend and advocate who helped him get to the Olympics as an independent athlete is a King Hall alum: Brad Poore '08.  Recently, Brad was interviewed on KCRA-TV 3 about his efforts to get Guor to the London games.  Visit the KCRA photographer's web page here and scroll down to watch Brad's interview as it aired on the news.
The story about Brad's advocacy for Guor is touching and amazing.  As someone who has run his share of marathons, I'll be rooting for Guor (and Brad!) when the runners hit the course on Sunday!