New Mural Honors Work of Law Clinics
Posted By Madhavi Sunder, Jan 20, 2017
This week the School of Law celebrated the installation of a beautiful and inspiring new mural on the wall of our Clinic cottage. 

Created by UC Davis Professor Maceo Montoya and students enrolled in his Chicana/o Studies Mural Workshop course, the mural honors the social justice work of our clinics, including the Civil Rights Clinic, the Family Protection and Legal Assistance Clinic, the Immigration Law Clinic and the Prison Law Clinic. The idea of honoring the Clinic's work through art arose in my first meeting with Clinic staff and faculty after I became Associate Dean in Summer 2015. Their interest in art that would help tell the stories of our Clinic clients and reflect their journey from helplessness to empowerment resonated with me. As a scholar of law and culture, I study the role of popular culture and the arts in social production and social revolution. As John Dewey reminds us, there is nothing quite like art as a vehicle for offering an intimacy with the lives of people different from ourselves. Art matters for justice, helping to foster empathy and understanding.
When Dean Johnson heard the idea, he immediately contacted Professor Montoya, and Dean Brett Burns paved the way for an exciting partnership between Professor Montoya's undergraduate art students and our Clinic. The art students interviewed Clinic students, staff and faculty, and learned of our Clinic's history and transformative work. The mural is designed in three sections. The left side represents "different aspects of being systematically trapped," according to the artists' statement. In the center is "a scale representative of the justice system" and a depiction of the clinic cottage as "a center of hope and support." On the right, we see images of "liberation": broken chains that emerge into doves, thank-you letters to the clinic, and the word "justice" in different languages.  (To see the full artists' description of the piece, click here .)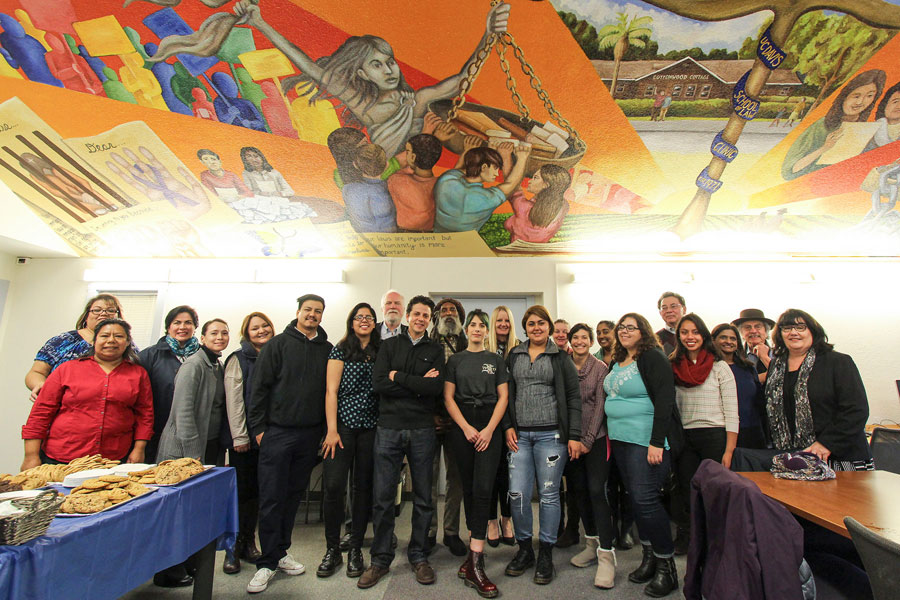 At the installation ceremonies, Dean Johnson (who posted a Dean's Blog entry on the mural in December) thanked Professor Montoya and his students, as well as our wonderful clinical faculty and staff, who were all in attendance--Associate Director of the Immigration Law Clinic Holly S. Cooper '98, Supervising Attorney for the Civil Rights Clinic Carter "Cappy" White, Supervising Attorney for the Prison Law Clinic Millard Murphy, Associate Director of the Immigration Law Clinic Amagda Pérez '91, Director of the Family Law and Protection Clinic Kelly Behre, Paralegal/Law Clinic Coordinator Mary Anne Baird, and clinic staff members Lorie Castillo and Teresa Medina. Also in attendance were Director of Clinical Legal Education Rex Perschbacher, Professor Gabriel "Jack" Chin, Professor Cruz Reynoso, and several other King Hall staff and students.
Professor Montoya spoke of how he and his students gained a deep appreciation for the transformative work being done in our law Clinic.
The beautiful mural he and his students created will surely inspire Clinic students, faculty and staff in many years to come. The art also creates a more welcome space for Clinic clients. "I hope this makes our clients comfortable when they come in," Professor Murphy said of the mural in his remarks. "I hope it continues to remind us of the work we are doing, who we are serving, and continues to inspire our students."