Neumiller Competition 2012
Posted By Kevin R. Johnson, Apr 11, 2012
I attended the Law School's annual Neumiller Moot Court Competition on Saturday.  As usual, the oral advocates were outstanding!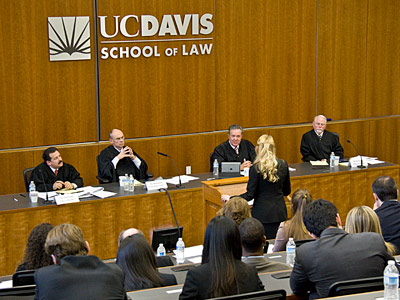 Kara DiBiasio '13 argues her case to the panel of judges.
The team of Zachary Schultz & Nathan Zhang represented the Petitioner; Kara DiBiasio & Lauren Herrera argued for the Respondent.  We hosted an esteemed group of judges: the Honorable Raymond C. Fisher and Milan D. Smith, Jr. from the United States Court of Appeals for the Ninth Circuit, as well as John A. Mendez and William B. Shubb from the United States District Court for the Eastern District of California.  The cutting-edge case revolved around a high school student's online journal and the discipline and accusations she faced from the school's administration.  The legal issues at stake included defamation and the First Amendment right to freedom of speech. 
In the end, the team of DiBiasio and Herrera prevailed.  The judges singled out DiBiasio for her exceptional skills.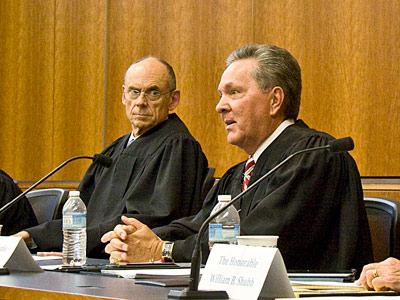 Judge Fisher listens as Judge Smith provides feedback and explains the court's decision to each advocate.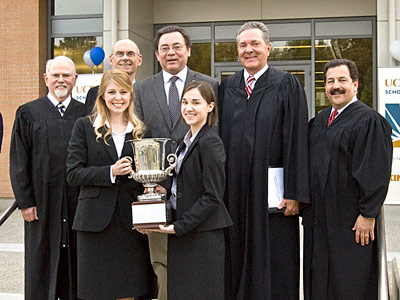 Judge Shubb, Judge Fisher, Judge Smith and Judge Mendez pose with me and the winners, Kara DiBiasio '13 and Lauren Herrera '13.
During the event, the following students were also recognized with special awards.
Overall Outstanding Appellate Advocate:
Zachary Schultz
Overall Outstanding Oral Advocate:
Zachary Schultz
Outstanding Appellate Brief:
Ian Hlatky and Tom Morris
Order of the Barristers:
James Beck
Scott Judson
Collin Kilpatrick
Jason Liu
Liam McKenna
Jan Roos
Brittany Sachs
John Stoller
Alana Thorbourne
Kyle Wende
Congratulations to all!!