National People of Color Conference and King Hall Activities
Posted By Kevin R. Johnson, Sep 10, 2010
It's Friday, and I'm wrapping up a trip to the National People of Color Conference at Seton Hall Law School.  I'm proud that UC Davis School of Law was a conference sponsor.  I had the honor of being in the opening plenary panel with many heavy hitters.  I talked about immigration in a paper I will present at ASU next month.  My good friend Lori Nessel showed me around Seton Hall's impressive social justice clinic.  Rising political superstar Cory Booker, Mayor of Newark and former Stanford football star, talked at the dinner.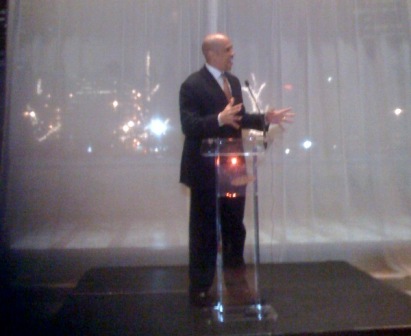 Newark Mayor and Yale Law grad Cory Booker speaks at the National People of Color Conference.
Incredibly, it was just one week ago that King Hall celebrated the Grand Opening and Ribbon Cutting Celebration for the new wing!  It was wonderful to see all of the faculty, staff, students, alumni, supporters, and friends of King Hall who joined us for the special occasion.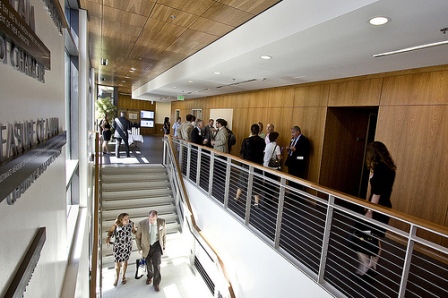 Visitors explore the second floor during the Open House at King Hall.
Many of our alumni and friends made a weekend out of UC Davis-related activities.  Dozens of them joined us for the Aggie football team's season opener against Berkeley.
Game day started off with a King Hall tent as part of UC Davis's pre-game activities.  Throughout the morning, alumni, faculty, staff, and their families dropped by our tent, had great barbecue from Ludy's, and caught up with one another.  Chancellor Linda Katehi and her husband Spyros Tseregounis stopped by for quite a while to talk with Law School alumni.  Afterward, we joined the spirited group of fans in the middle of the Aggie Section who cheered for the team.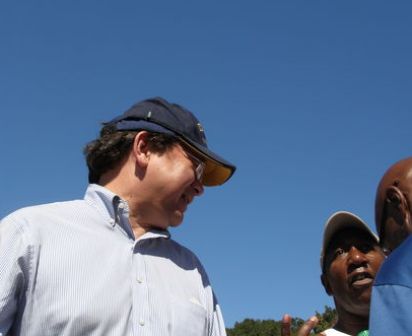 I'm a Cal fan and UC Davis fan, so I'm wearing both teams' caps at once!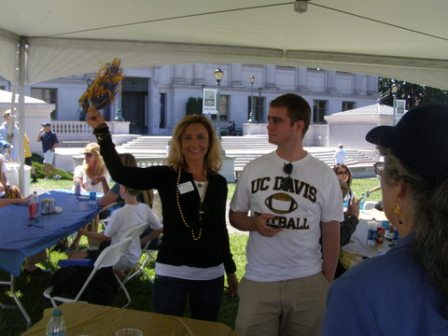 Associate Director of Development Jen Aldridge and Brian Goldman '12 show their Aggie pride.
Alum Ron Stock '75 was quoted in a Davis Enterprise article about the game, saying, "It's really good to see Davis playing Division I football.  When I was in law school, nobody really thought much of the football team or knew much about the team.  We live in Southern California and came up for this game."
Thanks to all who joined us for these exciting King Hall activities!!