Monika Kalra Varma '00 Receives Public Interest Award
Posted By Kevin R. Johnson, Jun 29, 2016
Alum Monika Kalra Varma '00 recently received the 2016 Public Interest Achievement Award from the South Asian Bar Association. She was honored for her work on human rights and social justice issues as executive director of the D.C. Bar Pro Bono Center. We posted a news item about her award on our website.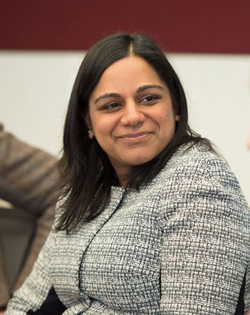 In her acceptance speech, Monika said she got her start in public interest law at King Hall. She shared her remarks with me. Here is an excerpt:
My career in public interest started in law school, when I took on an asylum case for a woman from Somalia. I'll call her Hawa. Hawa's husband was abducted from their home in the middle of the night and then executed.
In the midst of her loss, Hawa started an informal support group in her neighborhood -- reaching out to other women, from different tribes, whose husbands had also been killed.
She simply wanted a place for her kids to feel safe and play together. So they got together every week to support each other, to find a way to heal, and to give their children moments of a "normal" childhood.
And one night, as my translator and I sat in our small immigration clinic office at UC Davis, Hawa told us about her own arrest. She was beaten and held with another friend from her support group. They were taken because surely, this group of mothers could only be meeting to plot against the government.  She described the cell she lay in, barely alive from her own beatings where the guards brought her friend's body and left it there for 3 days to send a message to her and others who might think of betraying the government.
The night she found the courage to relive and share the darkest moment of her life with us, my heart shattered, and then I fought with every hour I could find -- until I helped her gain asylum.
So follow the things that break your heart.
Congratulations on your well-deserved award, Monika! The School of Law is proud of you and your important work.