Milestone Reunions 2015
Posted By Kevin R. Johnson, Oct 29, 2015
This weekend's "Milestone Reunions" at the School of Law were full of warmth and good spirit.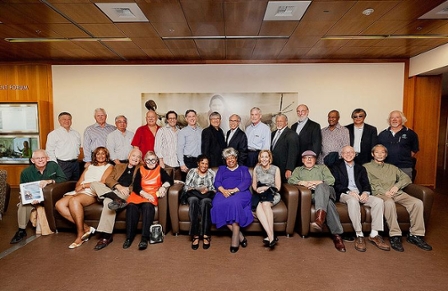 Members of the Class of 1975 at King Hall
I loved seeing alums (from the Classes of '70, '75, '80, '85, '90, '95, '00, '05, and '10) visiting with their favorite professors, including Bob Hillman, Joel Dobris, Ed Imwinkelried, Lisa Pruitt, Carlton Larson, Bruce Wolk (which brought a special guest appearance by his wife, California Senator Lois Wolk), Floyd Feeney, Alan Brownstein, Cruz Reynoso, and Ed Rabin. 
There were many highlights for me, including:
- visiting with Art Chinski '70 and his lovely wife and to show off the Chinski Room that he named after his parents.
- talking with Judge Ramona Garrett '80 about her book project.
- talking with retired Judge Frank Ochoa '75 who is, among other things, teaching classes at UCSB.
- seeing old Civil Procedure students, including Jennifer Donnellan '00, Joy Ramos '95, Minty Siu Ching Kootnikoff '95, and Sean Dabel '05 (a candidate for judge in San Mateo County).
- seeing Paul Rosenthal '75 and Roldan Trujillo '75, whom I saw last week at the alumni reception in Washington, DC.
- visiting with former Woodland Mayor Tom Stallard '75, former alumni board president, who is helping King Hall student Enrique Fernandez '16 launch a political career.
- talking with alumni board members Steve Muldowney '95, John Pavolotsky '00, Judge Stacy Boulware Eurie '95 (our current Alum of the Month!), and Carol Livingston '80, who were all attending their class reunions.
- giving awards for the alums traveling the longest distance to attend the reunion to Irene Tresser '90 and Allison Mendel '80 for coming more than 3000 miles(!) from Anchorage, Alaska to see their classmates. 
- bringing down the house with a slideshow of pictures and the music video that our law students created a few years ago, "Davis State of Mind"!
Visit our Flickr page for the photo gallery from this weekend's reunions. And keep an eye on the School of Law website for a news story.
It was great to see our wonderful King Hall alums!