Message to the Community on Dr. Martin Luther King, Jr. Holiday 2016
Posted By Kevin R. Johnson, Jan 18, 2016
Dear King Hall Community,
As we remember Dr. Martin Luther King, Jr. on the observance of what would have been his 87th birthday, I hope you will join me in reflecting on the strong connection between UC Davis School of Law and Dr. King's dream.
Our ties to Dr. King extend to the School of Law's earliest years. As founding faculty member Professor Floyd Feeney recalls in the special 50th anniversary issue of King Hall Counselor magazine, "The first law school class consisted of around 75 students willing to take a chance on a new venture. When Martin Luther King was assassinated, they were the first to recommend that the school building be named in his honor."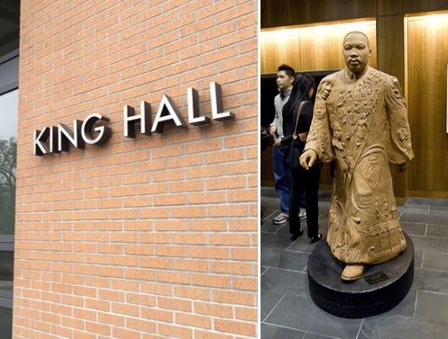 On April 12, 1969, our building was officially christened King Hall in a ceremony presided over by Hon. Earl Warren, Chief Justice of the United States. His words are memorialized on a plaque that adorns the entrance to our building: "In this fractured and strident world in which we live, there could be no finer symbol of justice at a law school than to have its house of learning bear the name of the gentle Martin Luther King."
In 1981, Dr. King's widow, Coretta Scott King, delivered the Law School's commencement address, and his son Martin Luther King III visited King Hall in 1986. Also in the 1980s, a committee of students and alumni commissioned the creation of the terra-cotta statue of Dr. King that now stands proudly in our lobby.
On the occasion of the School of Law's 50th anniversary, I am so honored that civil rights icon John Lewis will deliver our commencement address. Now a 15-term congressman from Georgia, Lewis fought for civil rights alongside Dr. King as a key organizer of the March on Washington in 1963 and the historic March on Selma in 1965. Congressman Lewis will no doubt inspire our graduates to continue to pursue the ideals of freedom, justice, and equality championed by his close associate Dr. King.
To learn more about the Law School's deep ties to Dr. King's legacy, please visit the History of King Hall page on our website. And reflect on one of the many quotes from Dr. King that grace the walls of King Hall: "Life's most persistent and urgent question is, 'What are you doing for others?'"
Thank you for all you do for the King Hall Community.
Kevin R. Johnson
Dean