Memorial Service for Alumni Board President John Schick
Posted By Kevin R. Johnson, Dec 12, 2011
Last, week, we lost two valuable members of the King Hall Community: former Dean Florian "Bart" Bartosic (news story here) and Alumni Board President John Schick '72 (news story here).  Details of a memorial service for Bart are expected to be released soon.  Meanwhile, over the weekend, I attended the "Celebration of Life" for John at Humphreys College Laurence Drivon School of Law in Stockton, where he was Associate Dean and Professor of Law.
Former Dean and Professor Rex Perschbacher was in attendance.  So was Assistant Dean for Development and Alumni Relations Jean Korinke.  I saw other Alumni Board members there, including Kara Ueda and Gage Dungy.  I saw U.S. Court of Appeals for the Ninth Circuit Judge Connie Callahan.  I sat next to our 2010 student commencement speaker Aliyah Abdullah and her family.  There were many nice pictures of John shown during the ceremonies, including John at various King Hall events.  There was a picture of him with the Alumni Board and Chief Justice Tani Cantil-Sakauye.  There also was this photo of John and me at an Oakland A's game last summer.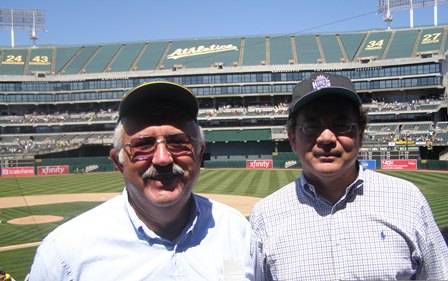 I had the opportunity to make remarks.  Here is what I said.
Thank you for allowing me to participate in this celebration of John Schick's life.  
John Schick was my friend.  And he was a devoted alum of UC Davis School of Law.  He gave from the heart.  I want to begin by expressing my deepest condolences to the Schick family and to the friends, colleagues, students, and loved ones whose lives he touched so deeply.
We will miss John's humor, his kindness, his optimism, and encouragement.  He was a remarkable person who was always interested in helping others, and possessed a boundless good humor that he brought to his distinguished career as a criminal defense attorney, but also to mentoring and providing moral support to law students and young lawyers.
As many of you know, John Schick was a proud alum of UC Davis School of Law.  He also earned his undergraduate degree from UC Davis.  In addition to the wonderful relationship he had with Humphreys College Laurence Drivon School of Law, he was a devoted friend and supporter of his alma mater. 
At the time of his death, John was president of the King Hall Alumni Association.  He had served on the Alumni Association Board since 1998 and several members of the board are here to celebrate John today.  And John often visited the law school.  A little over a week ago, he participated in the swearing-in of alums of the Class of 2011 as new attorneys, offering inspirational remarks.  He beamed with pride in the recent graduates at the reception that followed. 
John supported me personally as dean of the law school.  And he supported my predecessor, Rex Perschbacher, who is here today.  John never asked for much for himself but asked time and again what he could do to help the school, to help our students.  I remember how John gave me moral support while I was interviewing for the deanship.  He was one of the alumni who interviewed me as a dean candidate at dinner; John devoted that time despite the fact that he was in the middle of a murder trial, defending a defendant in a tough, high stakes case.
John enjoyed life.  He was a life-long Oakland As fan and attended many games.  I went with him to watch a rare A's win last summer on a sunny day.  We had a great time.   John Schick, beer and a hot dog.   And we had a great time last Monday at an alumni lunch in Sacramento.  I sat next to John and heard him offer help to a law student looking for a job.  Sadly, it turned out that John passed away just hours later.  One of his last efforts was to help a law student.  That was the John Schick we all knew and loved.
Throughout the King Hall community, John Schick was known as a person you could count on.  In talking with colleagues, students, and alumni this week, I realized that not one person who ever asked John for help could remember receiving anything but an enthusiastic, positive reply.  He was decent, respectful, warm, and generous.
John could always be counted on to help organize and attend Law School events.  Though he was not an avid golfer—as most of you know, John was more interested in birding and baseball—he was among the first to show up this fall at the Steve Boutin Golf Tournament, a fundraising event for public interest law grants for law students.  He helped to organize a recent Criminal Law Student-Alumni mixer, and enthusiastically shared his passion for criminal law with students and fellow alumni. 
John Schick loved the practice of law, and committed himself to the highest standards in his work as a criminal defense attorney.  He thoroughly enjoyed working with students, and never missed an opportunity to offer them the benefit of his knowledge and experience, along with his encouragement.  The students, faculty, and alumni of UC Davis School of Law benefitted greatly from his wisdom, experience, and generosity.  I know that John had an equally profound impact here at Laurence Drivon School of Law.
If there is some solace to be found in his passing, perhaps it is to remember that John Schick leaves a legacy that will live on in our lives and the lives of our law schools.  In acting as a mentor for so many students and young attorneys, he instilled values of community service, professional integrity, optimism, compassion, and basic decency to countless others.
I was pleased to read the story on John's life in the Stockton Record, and especially pleased to see that it included comments from Aliyah Abdullah, a UC Davis School of Law alum who is a now a member of the faculty here at Laurence Drivon School of Law.  John was a friend and mentor to Aliyah and her son.  In the article, Aliyah is quoted as promising to "pick up where he left off" and to try to "have the same impact on students that he had."
I hope that all of us who knew, loved, and admired John Schick will make a similar effort to live up to his outstanding example. We will all miss him immensely.  Thank you.