Meeting the New LL.M. Class of 2017
Posted By Kevin R. Johnson, Aug 18, 2016
I had the honor of welcoming our LL.M. students to King Hall yesterday morning.  We have more than 80 LL.M. students from seventeen nations, an increase in the number of nations represented in our program last year.  From Brazil to China to Saudi Arabia, Turkey, Ethiopia, India, and Viet Nam, to name only some of the nations, we have an incredible group of lawyers and judges studying American law at UC Davis this year.  It is like we are having to Olympics for LL.M. students in Davis!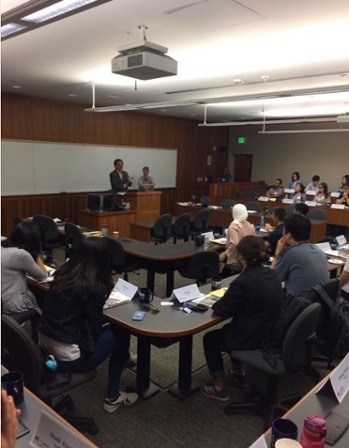 Addressing the LL.M. class alongside Beth Greenwood. Thanks to Cyntia Spencer for the pic!
It always is fun to talk about the profound influence that Dr. Martin Luther King, Jr. had on the social justice consciousness of UC Davis School of Law.  Having just celebrated our 50th anniversary, our faculty has a commitment to research, teaching, and community that is second to none.  Today, we enjoy a new and improved law school building, and a reputation as one of the world's leading law schools.
I assured them that the LL.M. students were in very good hands.  Associate Dean and Director of the LL.M. program Beth Greenwood, Professor Floyd Feeney, and the LL.M. Coordinator Cyntia Spencer and her team, will ensure that the students have an educational and enjoyable one-year journey into the U.S. legal system.
All of our students have shown good judgment to attend UC Davis School of Law.  Moreover, the study of American law will be informative and transformative.   The United States protects its most cherished freedoms in the U.S. Constitution.  The law through lawyers protects the rights of the people.
I did offer one cautionary note: when the undergraduates return, be careful while biking on campus!