Meeting New Athletics Director Kevin Blue
Posted By Kevin R. Johnson, Jul 14, 2016
I was able to meet the new UC Davis Director of Athletics, Kevin Blue (and Gold) this week.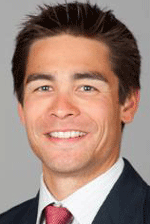 Previously of Stanford, Kevin joined the UC Davis community in late June.  I told him that UC Davis Athletics had many supporters at the School of Law and that our football tailgater and BBQ every October has been a crowd-pleaser for faculty, staff, students, and alumni.
Kevin expressed optimism about the future of Aggie sports and emphasized his deep commitment to the academic success of our student athletes.  I told Kevin that we would love to have more Aggie athletes at King Hall!