Meeting La Raza Pre-Law Students at UC Davis
Posted By Kevin R. Johnson, Sep 28, 2016
Earlier this week, I had the distinct pleasure of meeting with the UC Davis La Raza Pre-Law Students in the Art Building on a warm and balmy evening on the UC Davis campus.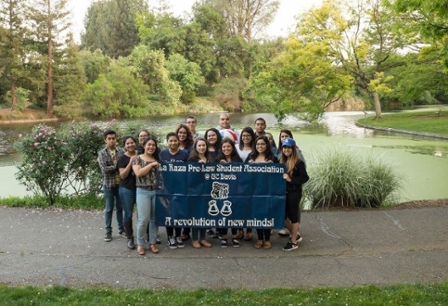 I have met with the group for a number of years to talk about the law school admissions process and UC Davis School of Law.  A number of King Hall alums, including Emilio Camacho '11, were active members of the group when they were undergraduates.  Second-year student Angel Castro was a member of the group as a UC Davis undergraduate and also attended the meeting with me.  Angel, who also participated in our King Hall Outreach Program (KHOP), offered the student perspective on law school.  
One of the student leaders, Kevin Carballo, invited me to talk this year and I jumped at the opportunity.  I was able to talk about the unique community of diversity, excellence, and spirit that we have at King Hall.  We went around the room for introductions and I was impressed that so many impressive and ambitious students were interested in law school.
I left the meeting thinking that we would be lucky indeed to have members of Davis La Raza Pre-Law someday attend UC Davis School of Law.
Update: The group sent me a kind e-mail message.
"On behalf of La Raza Pre-Law Student Association (LRPLSA), thank you for coming to our first informational of the quarter and for speaking to current and prospective members. We appreciate the time you took out of your schedule to speak to us about King Hall, your undergraduate experience, and the law school application process. Not only have you provided us with great resources and networking opportunities, you continuously empower both board members and general members."
Thanks for having me, La Raza Pre-Law students!