Meeting Alumni in Sunny Seattle
Posted By Kevin R. Johnson, Aug 12, 2016
We had an enthusiastic group of King Hall alums meet in downtown Seattle yesterday. Daniel Ichinaga '83 opened up his law firm Ellis, Li & McKinstry PLLC for the event, and his wonderful wife Alison made an incredible spread of gourmet food fit for kings and queens.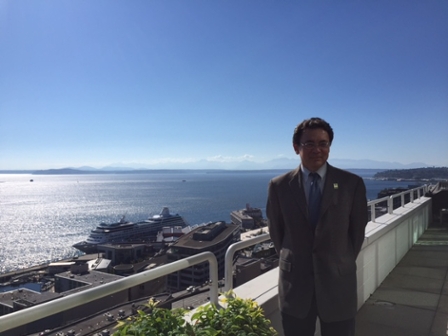 The view from the terrace at Ellis, Li & McKinistry PLLC, only one block from the famed Pike Place Market
Bill Mantle '74, Sameena Habib '07, Jared Wigginton '13, Daniel Ehrlich '06, Amy Jungwirth '15, and many others attended.  I was able to fill them in on the great happenings at UC Davis, including the upcoming Welcome BBQ for the Class of 2019. Senior Director of Development Karen Charney informed the group of the passing of our founding dean, Ed Barrett, last week. Several alums waxed fondly about their time at King Hall and their own Welcome BBQ.  Assistant Dean of Career Services Craig Compton received praise for his hard work in helping our students secure employment.
It was a sunny and warm degree in the 80 degree range, which was hot to our Washington alums but much cooler than the 90-plus degrees in Davis!