Martin Luther King, Jr. Week at Martin Luther King, Jr. Hall
Posted By Kevin R. Johnson, Jan 25, 2010
We are proud that the building that houses our law school is dedicated to Dr. Martin Luther King.  Indeed, I often wonder what it must have been like when Chief Justice Earl Warren of the U.S. Supreme Court dedicated the new building in 1969, not that long after Dr. King was lost to us all forever.  Last week, it was with great pleasure that the King Hall community celebrated not just on his birthday, but for an entire week with events and speakers.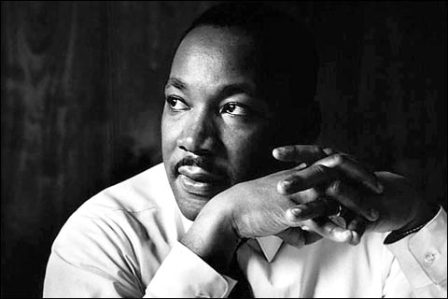 Photo source: Corbis
The theme of this year's King Week, which was organized by the Black Law Students Association (especially Leo Bitoy), was "MLK: Past, Present, and Future."  It featured outstanding lunchtime presentations by the Honorable Troy Nunley of the Sacramento County Superior Court, criminal defense lawyer (and former Senior Staff Counsel at the California DMV) Keith J. Staten, Counsel to the California Assembly Speaker Karen Bass, Frederika McGee, and California Public Utilities Commissioner (and former Judicial Appointments Secretary to Governor Schwarzenegger) Timothy Simon.
I attended three out of the four excellent presentations. (On one day, I had a faculty lunch with a visiting professor.) It was great to have them at King Hall.  Judge Nunley gave an inspiring talk about his career and how, through thoughtful mentoring from other lawyers and hard work, he became a judge.  Mr. Staten encouraged the students to look at the racial impacts of our criminal justice system on Latinos and African Americans, and to consider the path of a criminal defense attorney.  Mr. Simon offered a truly inspiring talk about the need for diversity in colleges and universities, law schools, government, law firms, and across the legal profession.
As part of King Week, the BLSA students brought local high school students to King Hall to expose them to law school classes, students, and faculty.  The students came from NP3 (Natomas Pacific Pathways Prep) and Grant High School in Sacramento.  Some came from schools in Fairfield.  Among others, Cruz Reynoso talked to them about the law and lawyers, as well as his career.
Many buildings on university campuses are named for big donors.  I know it means a lot to to the King Hall community that our building is named for Dr. Martin Luther King, Jr., who stood for liberty and justice for all.