Marlon Cobar '00 and Lesley Sedano '17 in Colombia
Posted By Kevin R. Johnson, Aug 10, 2016
Student Lesley Sedano '17 is clerking with Marlon Cobar '00 in the U.S. embassy in Colombia this summer. Marlon thought it would be interesting to highlight the ways in which King Hall alums are passing on the baton to students. What a great idea!
Lesley wrote-up this summary of her work in the Judicial Attaché office. She agreed to let me share it on the Dean's Blog. Thanks, Lesley and Marlon!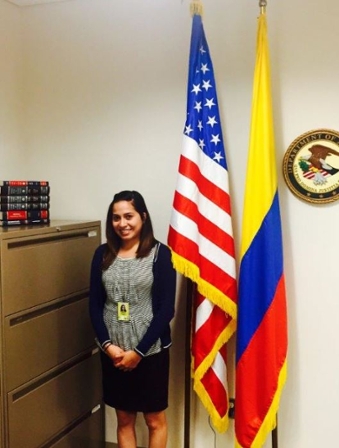 I am a rising 3L at UC Davis School of Law and for the summer I am working as a law clerk in the Judicial Attaché office with Marlon Cobar in Bogota, Colombia. Working with Marlon in the U.S. Embassy in Colombia has been a great experience that has not only focused on developing legal skills but providing exposure to life as a diplomat. I have had weekly meetings with various agencies within the embassy itself as to understand all of the avenues that are available in government with the potential to work abroad. Additionally, I have had the opportunity to meet and chat with various people within the Colombian government. While in Colombia I have done a myriad of tasks including attending some very important meetings with the Colombian government and drafting memorandums. I was assigned one major project for the summer which will result in a writing sample. The major project revolves around the issue of the application of constitutional rights abroad. In addition to the larger project there have also been a number of other research projects that aim to answer narrower issues regarding the applicability of American law abroad.  As a whole this clerkship has provided me with exposure to diplomatic work and the opportunity to refine my research and writing skills. This position has been a great experience and allowed me to work on the skills that I sought to work on this summer.
My perception of the office is that it is an office bustling with activity as many topics are covered by the Department of Justice here. Thus, it is not merely issues of extradition but rather it reaches much more broadly into diplomatic and the bilateral justice relationship between the U.S. and Colombia. This experience has really educated me on not only what an embassy does generally in a foreign country but what the function of the United States Department of Justice is abroad.