Lunch with Alumni in Seattle
Posted By Kevin R. Johnson, Aug 7, 2014
I attended a wonderful UC Davis School of Law alumni lunch in Seattle today.  Senior Director of Development and Alumni Relations Karen Charney organized the event, and Daniel Ichinaga '83 hosted the elegant lunch at his law firm Ellis, Li & McKinstry.  Daniel, who has not been to Davis since 1983, is mulling over the possibility of a Picnic Day return visit.  The conference room in which the lunch was held had a stunning view of Puget Sound!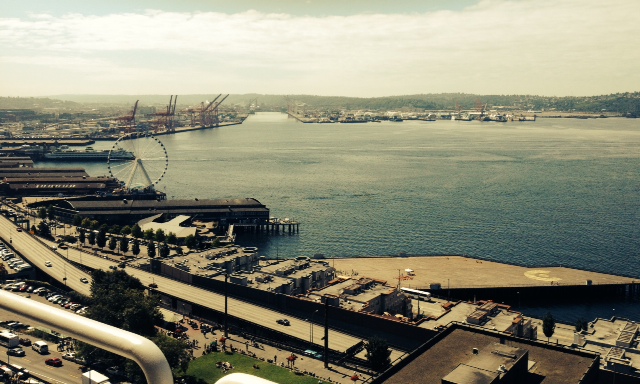 The view from the Ellis, Li & McKinstry conference room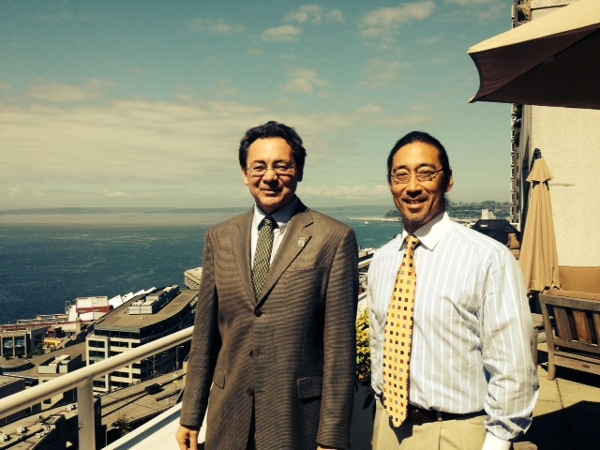 Me with our alumnus Daniel Ichinaga '83
It was a gorgeous 75 degrees and sunny day.  I met with a very engaged group of alums and filled them in on the new and improved King Hall, the revamped law school website (everyone was most impressed), our stratospheric bar passage rate last year, the incoming -- and outstanding -- Class of 2017, the improving employment market for our graduates, and much more. It was really fun to catch up with the Seattle alums.  Our alum Jennifer Townsend '77 told me she is making a film on the 25th anniversary of the film classic Thelma and Louise!  In the afternoon, I was able to sample some strong Seattle coffee with Bill Mantle '74, a devoted King Hall alum who plans to come watch a UC Davis football game this fall.
It was a great visit to the Pacific Northwest. Thanks to our host Daniel Ichinaga '83 and to all of the Seattle-area alumni who joined us!