Luis Alejo '01 Proposes on Assembly Floor
Posted By Kevin R. Johnson, May 8, 2012
Congratulations to California Assembly member and King Hall alum Luis Alejo '01!  Alejo proposed to his longtime girlfriend, Karina Cervantez, on the floor of the Assembly yesterday. She said yes!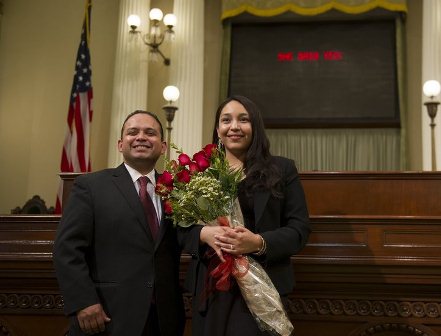 Alejo and Cervantez. The screen behind them reads, "SHE SAID YES."
According to this article in The Sacramento Bee, Alejo's was "the first marriage proposal on the Assembly floor in recent memory, if not the first ever."
Assembly member Alejo is a dedicated UC Davis School of Law alum. Former co-chair of La Raza Law Students Association, he regularly attends the LRLSA Patino Banquet and often returns to King Hall to speak to student groups.