Live Blog from UNAM International Immigration Conference
Posted By Kevin R. Johnson, Mar 26, 2015
I am blogging live today from an immigration conference at Universidad Nacional Autónoma de México (UNAM) in Mexico City. UNAM is a historic place.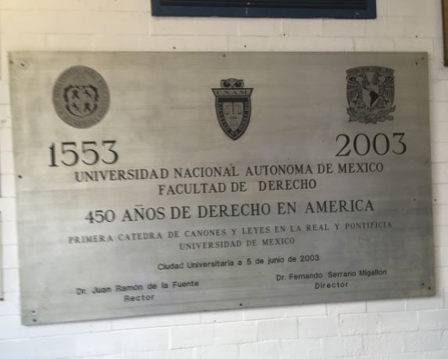 A sign heralding one of UNAM's historic milestones
Here is our UC Davis delegation!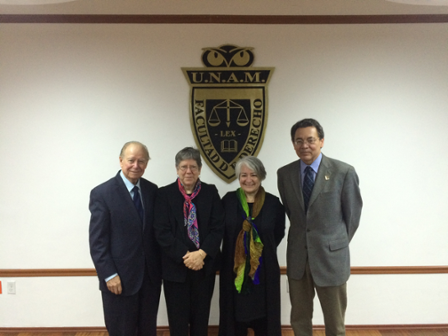 L-R: Cruz Reynoso, Beth Greenwood, Leticia Saucedo, and me
After a welcome from the three cosponsoring law school (UNAM, Monterrey Tech, UC Davis) deans, the first panel (Overview, History and Culture of Immigration) offered an excellent foundation for the day.  Professor Nicolas Foucras (Monterrey Tech) talked about migration as a reflection of global economic pressures.  I offered an overview of contemporary U.S. immigration law.  Professor Gabriela de la Paz (Monterrey Tech) discussed the implementation of U.S. immigration policies in the Clinton, Bush, and Obama administrations based on her interviews with U.S. immigration enforcement officers in the border region, including McAllen and Laredo, Texas).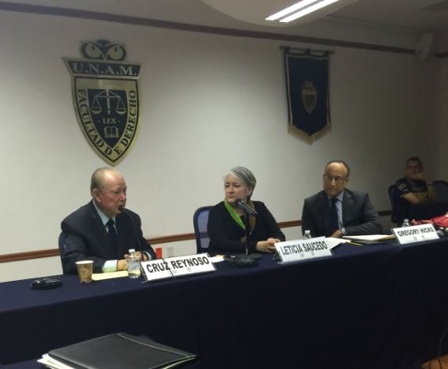 Professors Reynoso and Saucedo on Panel 2
The second panel (Undocumented Immigrants in the U.S.: Impact, Challenges and Enforcement) began with Professor Leticia Saucedo talked about the history of U.S. immigration law resulting in the emergence in the modern undocumented immigrant population in the United States.  She also documented the record-setting removals of immigrants from the United States during the Obama administration.  Offering a personal as well as historical account, Professor Cruz Reynoso provided thoughts on the challenges facing undocumented immigrants in the United States and offered his opinions on the various immigration policies of the Obama administration (including the Deferred Action for Childhood Arrivals program).  Professor Gregory Hicks ended the panel with a discussion of the common environmental dangers faced by immigrants in agricultural work far from the border, with a focus on California.
Panel 3 (Impact of the Immigration Laws on the Individual) began with Professor Mariana Gabarrot (Monterrey Tech) looked at transnational space and family and considered exclusion in education and health opportunities for, as well as the prevalence of poverty among, migrants in the United States.  Professor Gerry Andrianopoulus (Monterrey Tech) discussed national security considerations in the U.S. immigration debate and reviewed public opinion polls showing less concern today than a few years ago with border security; he also analyzed the politics that led to the border fence (or border wall if you are against it)..  Dean Maria Leoba Castaneda Rivas (UNAM) discussed humanitarian legal assistance for immigrants.   Professor Leticia Saucedo (UC Davis) looked at  the impacts of U.S. immigration laws on the employment of Mexican citizens.
The discussions have been rich and everyone did well as English talks were translated into Spanish for the native Spanish speakers and Spanish talks were translated into English for the native English speakers.  The question and answer sessions after each panel were particularly illuminating, with a rich exchange of ideas from a variety of national and disciplinary perspectives.
Much thanks to Dean Maria Loeba Castaneda Rivas, Dean of UNAM, for her gracious hospitality and ensuring that all participants were treated like royalty.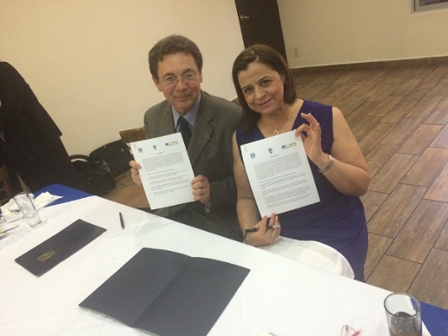 UNAM Dean Maria Loeba Castaneda Rivas and I signed an MOU to provide for collaborations between our schools.
Thanks also to Dean Gabriel Cavazos, Monterrey Tech, for cosponsoring the event and ensuring that it was successful. Beth Greenwood, Executive Director of International Programs (UC Davis School of Law), and Concha Romero, both were instrumental in making the event a successful international collaboration on one of the most pressing public policy issues of our time. 
For more live blog entries from the conference in Mexico City, visit Immigration Prof Blog.