Legal Services of Northern California 60th Anniversary
Posted By Kevin R. Johnson, Sep 30, 2016
UC Davis School of Law had a prominent presence at the 60th Anniversary Celebration of Legal Services of Northern California (LSNC).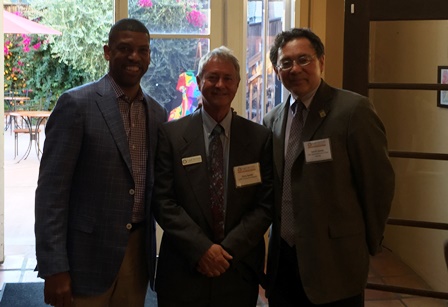 Mayor Kevin Johnson, LSNC Executive Director Gary Smith, and me
In the elegant Antiquite Maison Privee in midtown Sacramento, the keynote speaker was Mayor Kevin M. Johnson, who offered an inspiring and humorous talk about the importance of community redevelopment.  As President of the LSNC board of directors since 2003, I had the opportunity to welcome the attendees and talk a bit about LSNC's great work for the poor.  Professor Lisa Pruitt, Career Services Associate Director for Public Interest & Public Sector Careers Tim Griffiths, and several law students were in attendance. Amy Williams '05 , part of the LSNC leadership, was central to organizing the event and asked the attendees to help support this very worthy organization.
Happy anniversary to LSNC!