Lectures and Symposia at King Hall
Posted By Kevin R. Johnson, Mar 9, 2012
Today the Kalmanovitz Moot Courtroom is filled with faculty, students, alumni, and friends of King Hall for the 2012 Journal of Juvenile Law and Policy (JJLP) Symposium: "Changing Course – Addressing Racial Disparities in the Juvenile Justice System."  This year's symposium focuses on the racial disparities that exist in the juvenile justice system.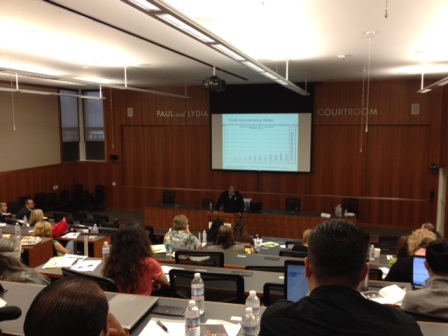 The JJLP event is one of many excellent lectures and symposia hosted by UC Davis School of Law during the spring semester.  Already, the Business Law Journal and Law Review have hosted outstanding symposia.  (The Law Review Symposium was so well-attended, in fact, that the audience overflowed into several neighboring classrooms.) 
Here's a look at more of the outstanding lectures and symposia coming up this semester:
Barrett Lecture on Constitutional Law: Former Solicitor General Drew S. Days
March 26, 2012
4 P.M. – 6 P.M.
Drew S. Days III is the Alfred M. Rankin Professor Emeritus of Law and Professorial Lecturer in Law at Yale Law School.  He has been a staff member of the NAACP Legal Defense Fund, the Assistant Attorney General for Civil Rights in the Carter Administration, and U.S. Solicitor General in the Clinton Administration.  The title of his lecture is "Equalizing Equality: The Canadian Record After Three Decades of Constitutionally-Authorized Affirmative Action."
For program information, click here.
Bill Smith Memorial Lecture: Former Chief Judge Vaughn Walker
April 11, 2012
5 P.M.
Judge Vaughn Walker, former Chief Judge of the North District of California and author of the initial opinion striking down Proposition 8 as unconstitutional, will deliver this year's Bill Smith Memorial Lecture.  Proposition 8 sought to ban same-sex marriage in California.  This lecture is sponsored by the Lambda Law Students Association.
For program information, click here.
Environmental Law Symposium: "Solar Energy Siting in California – Challenges and Opportunities for a Sustainable Future"
April 13, 2012
10 A.M. – 4:15 P.M.
The symposium will focus on the Renewables Portfolio Standard (RPS) Program and the implications of increasing California's reliance on renewable energy resources through solar development.  Panels will discuss the mechanics of solar development, economic and siting challenges, the impact on farmland and sensitive habitat, and the statutory frameworks for permitting and mitigation.  Speakers include State Senator Joe Simitian, author of the RPS bill, and Dr. Robert Weisenmiller, Chair of the California Energy Commission.
For program information, click here.
All of these events are free and open to the public.  I hope to see you at one (or more!) of them.