"Lawyers Helping Kids" Event Honors Judge Stacy Boulware Eurie '95
Posted By Kevin R. Johnson, May 24, 2013
Last night I attended the Court Appointed Special Advocates (CASA) event honoring King Hall alum Judge Stacy Boulware Eurie '95, who is a member of our King Hall Alumni Board.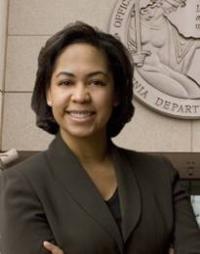 Judge Boulware Eurie, as seen in a past issue of Sacramento Lawyer magazine

The special event at the Tsakopoulos Library Galleria was titled "Lawyers Helping Kids." Alumni board members Gene Woo '85 and Judge Judy Hersher '84 also were in attendance. Judge Boulware Eurie offered inspiring remarks for all the advocates helping children.
Here's some information about CASA, from its website: "CASA volunteers are Court Appointed Special Advocates for children – trained community volunteers appointed by a judge as Officers of the court to speak up for children in juvenile court, and to help to humanize the often frightening and confusing child welfare and legal systems for these children."
It was a joyous mood at the celebration, and we could hear the Sacramento Kings celebration from Cesar Chavez Park just outside!