Law Students Provide Legal Assistance to Immigrants for Cesar Chavez Day of Service
Posted By Kevin R. Johnson, Mar 17, 2017
I just received this wonderful message from Immigration Law Clinic Co-director Amagda Perez. This is King Hall.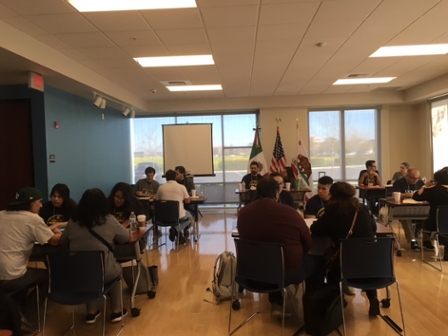 Dear Community,
On Monday, March 6th, La Raza Law Students, in collaboration with the UC Davis Immigration Law Clinic, CRLA Foundation, and the Mexican Consulate in Sacramento provided critically important information to close to 500 people on the importance of naturalization and how non-citizen families can prepare for the care of their United States citizen children in the event of parents being detained or deported.  On Saturday, March 11th, as part of Raza's Cesar Chavez Day of Service, King Hall students, supported by Clinic alums, CRLAF and AILA attorneys assisted more than 80 families to apply for naturalization or prepare caregiver authorization forms.  More than 40 Raza and Immigration Clinic students provided individual assistance to eligible lawful permanent residents with completing the naturalization form and AILA attorneys and Clinic alums provided legal review of every application. 
Congratulations to Tanairi Alcaraz and Anton Swain-Gil, Raza Co-Chairs, for coordinating efforts with CRLAF and the Mexican Consulate to put on such a successful workshop.  Special thanks to Clinic alums Santiago Avila-Gomez, Anel Carrasco, Theo Cuison, Bianca Dueñas, Laura Flores, Eddie Garnica, Cecilia Guevara-Zamora, Melissa Corral, Kirsten Hill, Tally Kingsnorth, Clara Levers, Stephanie Padilla, Eduardo Ramirez-Castro, Marcus Tang, Sarah Torres, Mary Waltermire and AILA attorneys:  Kristina McKibben, Michael Schoenleber, Trevor Woolf for their legal support and expertise; pro bono attorneys and community members:  Martha Cornejo, Julita Ledesma, Marissa O'Connor, Linda Rodesno, Poppy Strode, Sydney Ward, Leah White for their assistance helping families prepare caregiver authorization packets; CRLAF advocates:  Juanita P. Ontiveros, Sergio Pérez, Sandra García, Martha Zarate, Alma Rodriguez, Claudia Guzman for their paralegal support; and members of the Mexican Consulate:  Consul Rodrigo Baez, Gabriela Barron, Pedro Rivera and Dioné Briseño for hosting the workshop.
It was an incredible event that brought out the best of our students, alums, and community to provide greatly needed services to vulnerable communities. 
Thank you for your support,
Amagda