Law Student Learns Advocacy at NAGPS Conference
Posted By Kevin R. Johnson, Jan 30, 2012
LSA External Vice-President Jared Voskuhl '13 attended the National Association of Graduate & Professional Students (NAGPS) conference in Boulder, Colorado.  Here is his summary of this great event.


The National Association of Graduate & Professional Students assembled for the first time 25 years ago to successfully advocate Congress reinstate the tax exempt status for graduate stipends. This past year, NAGPS held their annual conference in Boulder, CO.  Students from across the nation gathered for three days and led over thirty-five different presentations about effective outreach efforts on their campuses, communities, and capitols.

The Dean's Office awarded me a generous travel grant to participate in the conference this year.  I attended sessions on Effective Advocacy, Organizational Branding, Advocacy Balanced By Professionalism, Models of Student Governance, Federal Legislative Action Items, the Board Structure of NAGPS, and Comprehensive Student-Government Outreach Programs.

I developed professional relationships with student government leaders in the Western Region of NAGPS's constituency, including UC Irvine's Graduate External Chair, Greg Wiley.  I also dialogued with law students from Florida State University involved in social justice outreach efforts in Tallahassee.  The conference provided several ideas and strategies to increase the efficacy of advocacy in Davis, Oakland, and Sacramento. I look forward to partnering with NAGPS over the next year as they carry out their 2012 agenda.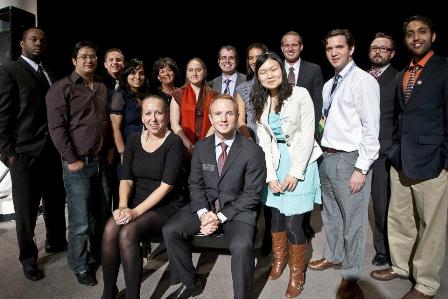 The NAGPS Board. Jared is fourth from the right.

Thanks for sharing the details of your experience, Jared!  The Dean's Office was happy to lend its support!