Law Student by Day...
Posted By Kevin R. Johnson, Jul 8, 2011
Law student by day, television sports correspondent by night.  I'm talking about Ryan Maquiñana '12, who's been writing for Max Boxing online for a while.  Now he's added TV commentator to his duties.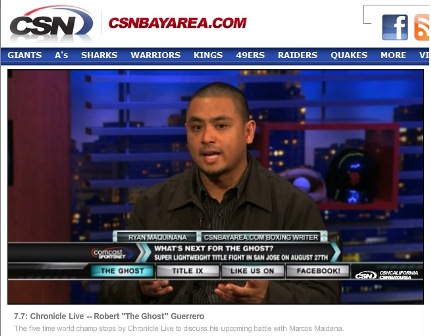 Ryan just sent me this e-mail:
Hi Dean Johnson,

I just wanted to let you know I made my debut on Chronicle Live last night.  The video is to the side of the article.  Hope your summer is going well!

http://www.csnbayarea.com/07/07/11/Stakes-high-as-Gilroys-Guerrero-preps-fo/landing.html?blockID=539906&feedID=2497

Sincerely,
Ryan
Nice job, Ryan!