Law Review's 2017 Hopkins Banquet
Posted By Kevin R. Johnson, Apr 17, 2017

The UC Davis Law Review held its annual banquet last week in honor of its latest volume.
Volume 50's editor in chief was Lars Reed '17; the managing editor was Markie Jorgensen '17.
The co-winners of the Hopkins awards for best note were Lars Reed and Russell Sternshein. Honorable mention went to Erin Canino and Wynter Miller.
Many faculty were in attendance, including Alan Brownstein, Floyd Feeney, Bob Hillman, Cruz Reynoso, Dennis Ventry, and me.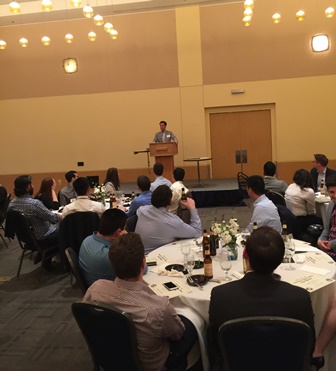 Professor Dennis Ventry announces the Hopkins Award.
Volume 50 was special in many respects. Among other achievements, the volume kicked off a new online UC Davis Law Review supplement.
The students had a nice awards ceremony honoring all editors, members, and masthead officers.  Many students thanked Sue Jones, the Law Review staff member who serves as the backbone of our wonderful publication.
Congratulations to the Law Review on a great Hopkins Banquet and fantastic year!