Law Review Banquet 2012
Posted By Kevin R. Johnson, Apr 25, 2012
The UC Davis Law Review wrapped-up the academic year with its annual Hopkins Banquet last week.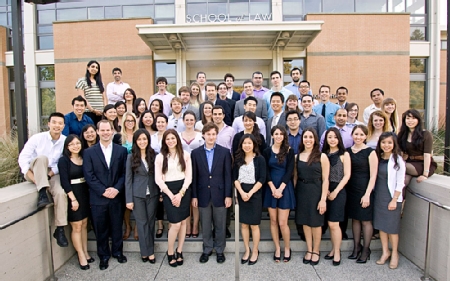 The editorial board and members of the UC Davis Law Review
The Law Review is an important part of the intellectual vitality of King Hall, and I enjoyed attending the year-end banquet at the Gunrock Pub on campus.  Many faculty members were there, including Afra Afsharipour (the Law Review's Faculty Advisor), Rex Perschbacher, Rick Frank, Bob Hillman, John Hunt, Floyd Feeney, Anupam Chander, Rick Frank, Jack Chin, Miguel Mendez, and Larry Green.
This year, Professor Afsharipour and her team of faculty selected students Liam McKenna and Connor Boyd as having written the best Law Review papers. Both of them were published in Volume 45, Issue 1.  Connor is an Executive Editor, and Liam is a Senior Articles Editor.
Here are links to the masthead for the 2011-2012 Law Review (Vol. 45) and the masthead for the next academic year's incoming board (Vol. 46).
Congratulations to the award winners, as well as all of the editors and members of the UC Davis Law Review!