Law Day 2016 Luncheon in Woodland
Posted By Kevin R. Johnson, May 6, 2016
Today, Senior Associate Dean for Academic Affairs Madhavi Sunder and I attended the Law Day 2016 luncheon sponsored by the Yolo County Bar Association in Woodland, where Associate Justice Goodwin Liu of the California Supreme Court was the keynote speaker.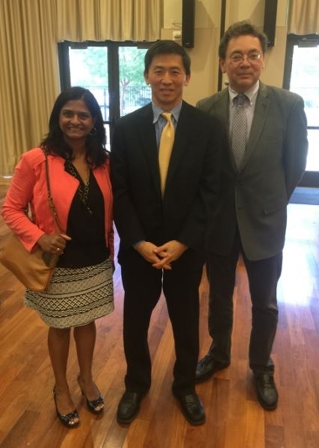 Senior Associate Dean Sunder, Justice Liu, and me
The theme of the luncheon was the Supreme Court's decision of Miranda v. Arizona. Many King Hall alums, including Bill Kopper '80, Tulin Gurer '14, and others.  Law student Enrique Fernandez '16, a candidate for Woodland City Council, also attended.  Presiding Judge of Yolo County Dave Rosenberg '74 introduced Justice Liu to the group.