Law and Society Annual Meeting in Seattle
Posted By Kevin R. Johnson, May 28, 2015
Hello from beautiful Seattle, where I am at the Law and Society annual meeting. The forecast is for a warm 80 degrees today.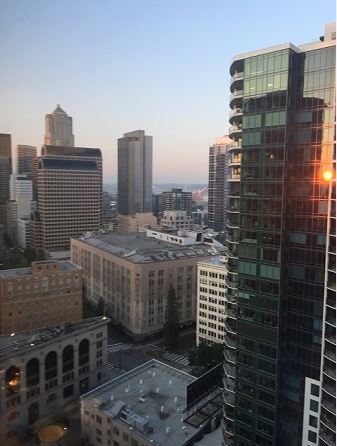 Mostly sunny in Seattle. I snapped this photo from the conference hotel, the Westin.
This morning, I participated in a lively discussion with UC Davis colleagues Professors Gabriel "Jack" Chin, Rose Cuison Villazor, and Brian Soucek, as well as other participants, about the historical roots and modern legacy of the Immigration Act of 1965.  Jack and Rose will soon be publishing a book with chapters from immigration scholars with a range of different perspectives on the 1965 Act.  The Act abolished discriminatory provisions of the U.S. immigration laws and imposed a Western Hemisphere ceiling, restricting immigration from Latin America. 
This afternoon, I am the discussant on a panel on "Access to Justice" with Professors Rex Perschbacher, Debbie Bassett of Southwestern (King Hall Class of '87), Francine Lipman  of UNLV (King Hall Class of '93), and Ron Aronovsky of Southwestern. 
Tomorrow, I am on a panel discussion on the future of legal education and the legal profession.     
UC Davis School of Law has a great showing at the annual meeting. Besides Rose, Jack, Rex, and Brian, Professors Afra Afsharipour, Mario Biagioli, Angela Harris, Elizabeth Joh, Thomas Joo, Courtney Joslin, Lisa Pruitt, Darien Shanske, and Dennis Ventry are participating on panels.
To learn more about the annual meeting, visit the Law and Society website.