La Raza Law Students and Dia de los Muertos
Posted By Kevin R. Johnson, Nov 3, 2009
Last night, the La Raza Law Students Association held a great event in the student lounge.  I attended along with Associate Dean Vikram Amar.  We were among the dozens of attendees, including faculty, students, staff, and reporters from the Davis Enterprise and Sacramento Bee, who listened as Professor Emeritus Cruz Reynoso discussed the recent killing of Luis Gutierrez and the rise of hate crimes in the United States.  Professor Reynoso is leading a citizens' panel that will investigate the killing by Yolo County Sheriff's deputies. 
In this picture, you can see that Professor Reynoso is standing in front of an altar, which the students created as a memorial to the victims of hate crimes.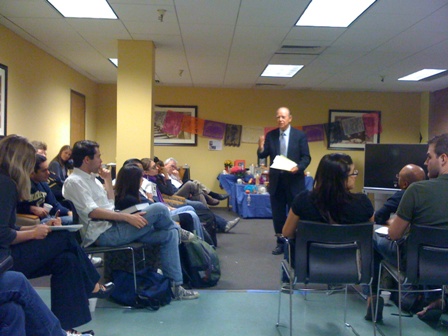 The event coincided with "Dia de los Muertos," or "Day of the Dead," a tradition where many Latinos remember the deceased and celebrate the continuity of life.  LRLSA students did a great job coordinating the event, even serving hot chocolate and pan dulce (my favorite).
The gathering got a good amount of press coverage.  Yesterday, the Sacramento Bee had predicted that the event would "shape the news in our region."  Today, it was on the front page of the Davis Enterprise.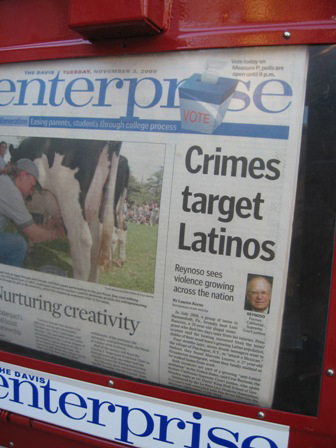 Thanks to LRLSA for organizing the event!